Limousine Service Clintonville MI
Are you looking for limousine service Clintonville MI?
In the same way Clintonville offers its residents an excellent way of life, so to do we at Rochester Limousine strive to offer our clients excellence in luxury transportation. And, if we do say so ourselves, we're confident we've succeeded with our sensational limousine service. In fact, people just like you have already voted our limousine service the best in all of Metro Detroit two consecutive years in a row – and how could they not? In terms of everything from safety and reliability, to amenities and style, our limousine service is simply second to none – and don't even get us started on comfort. Our spacious Suburban Stretch limos are our biggest and best, featuring multiple built-in televisions, separate bar areas, luxurious wrap around seating, and so much more for you and up to 19 guests to enjoy. If you don't need quite that much space, however, that's fine too. Instead, check out our two smaller Chrysler 300 model limos. With impressively robust sound systems, spectacular lighting, and enough room for up to 9-12 total passengers to let loose, you won't regret choosing this traditional limousine for all your most important outings. Perhaps the best part of all about our limousine service is its unlimited versatility. No matter where you're going, or how upscale the event, our limousine service will always fit right in so you never have to worry about impressing anyone. So go ahead, check your calendar and see what you have planned or schedule in or around Clintonville in the coming months. If you're going anywhere fun, be sure to give our experts at Rochester Limousine a call so we can help you enhance your evening with our outstanding limousine service.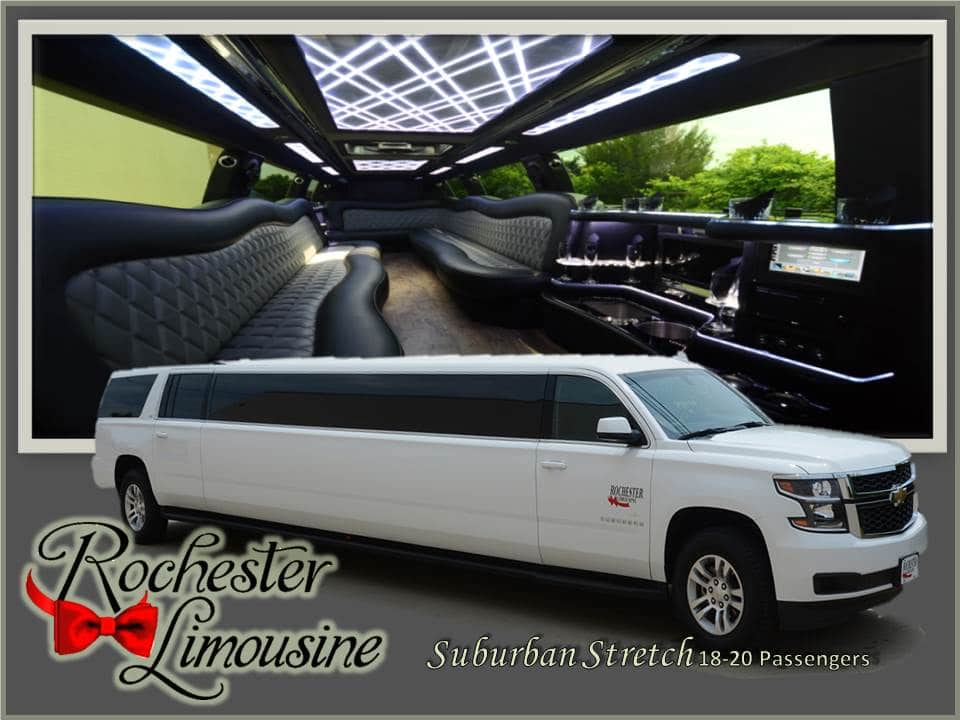 Limousine Service Clintonville MI
With more than 20 years of experience, Rochester Limousine is excited to help you enjoy "A Night To Remember" by offering you access to the most luxurious limousine services in Clintonville, MI. Clintonville is a cleverly named unincorporated community of Oakland County between Clintonville and Sashabaw Roads. It sits right off the Clinton River and is surrounded by vast lakes and beautiful waterfront homes just north of the Waterford Historic Village and southwest of the Great Lakes Crossing Outlets. Clintonville itself does not offer very much in the way of entertainment. Thankfully, with numerous great places to visit in every direction outside town, residents of Clintonville are never left wondering what to do or where to go. In fact, if you live in Clintonville and you're on the hunt for bigger and better adventures, we encourage you to take this opportunity to consider taking advantage of our limousine service at Rochester Limousine. Whether you're getting married, celebrating a birthday, or just looking for a way to elevate your girls/guys night out, we know we can help you make it the greatest adventure you've ever had!
If you are in the Clintonville area and are looking for limousine service Clintonville MI, please contact us today by calling 248.289.6665 or by filling out the form below: