Limousine Service Union Lake MI
Are you looking for limousine service Union Lake MI?
If you've never let our team at Rochester Limousine host any of your adventures, you've likely never even seen a limousine service like ours before. After all, while our limousine service does still offer incredibly traditional Chrysler 300 limos, available in 9-passenger and 12-passenger models like most other limousine service providers, our 20-seat suburban stretch is truly something out-of-this-world. Not only does it offer gorgeous wrap around seating, professional sound systems, and controlled state-of-the-art lighting, it offers three different built-in televisions and two massive bar areas. That means, whether you're attending an elegant event, a corporate function, a wedding, or even a birthday or bachelor or bachelorette party, you can rest easy knowing our limousine service is here to entertain! Best of all, our limousine service's fleet is the newest and hottest in the city, which means our road-safety and dependability are unparalleled. So please, stop making excuses and letting your doubts keep you from going above and beyond to treat yourself when you truly deserve it most. Our limousine service at Rochester Limousine will not disappoint, and you owe it to yourself and your loved ones in Union Lake to make your most memorable moments in life as magical as possible!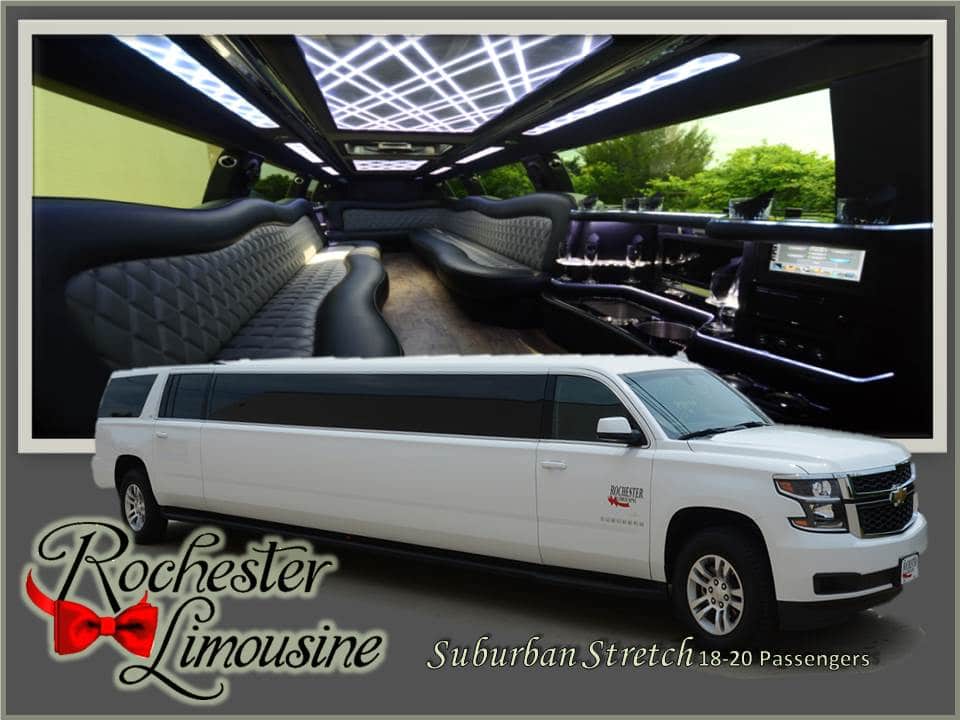 Limousine Service Union Lake MI
With more than 20 years of experience, Rochester Limousine is excited to help you enjoy "A Night To Remember" by offering you access to the most luxurious limousine services in Union Lake, MI. At the corners of West Bloomfield Township, White Lake Township, Commerce Township, and Waterford Township right up against the body of water known as Union Lake, the astoundingly impressive unincorporated community of Union Lake resides. In addition to being surrounded on all sides by magnificent inland lakes offering year-round recreation, Union Lake is where hot spots, like Defy, Chi-Town Union Station, and Marshbank Park, can all be found. Plus, its properties are as diverse as they are beautiful. The only thing Union Lake doesn't have is a wide selection exciting establishments. The good news is, so long as you make a reservation, you can take advantage of our exhilarating limousine service at Rochester Limousine. It doesn't matter where you want to go, what you're celebrating (if anything at all), or who you want to invite along for the ride, our fleet of luxury limousines is designed to turn any ordinary journey into a thrilling adventure for any who seek it. So what are you waiting for? Your friends in Union Lake are likely starved for a change of pace, so let's really blow their minds with a night out they'll never forget!
If you are in the Union Lake area and are looking for limousine service Union Lake MI, please contact us today by calling 248.289.6665 or by filling out the form below: