Limousine Service Commerce Township MI
Are you looking for limousine service Commerce Township MI?
Our one and only mission here at Rochester Limousine is simple, to provide Metro Detroit's best limousine service. So far, we feel we've done an incredible job. Our limousine service has been voted the best in the entire Metro Detroit area twice, our fleet of exceptional vehicles is revered for being the newest and hottest, and best of all our considerate limousine service professionals are always dedicated 110% to our clients' satisfaction. We have been helping people in and beyond Commerce Township celebrate birthdays, enhance weddings, escape stress, and otherwise enjoy the best nights of their lives for more than two decades and we love every moment of it. That's why, if you're looking forward to any sort of special occasion, show, or event coming up, we urge you to take this moment to reserve our limousine service for the night. We're confident we have a luxury vehicle perfect for you. From our 20-seater Suburban Stretch limos, to our 9 and 12-seater Chrysler 300 limos, all of our vehicles are designed for impressibility with a variety of industry-leading amenities you have to see to believe. The only downside is that availability to reserve our exclusive limousine service fills up fast. To make sure your next adventure outside Commerce Township is everything you hope it will be, make sure you get in touch with our limousine service specialists at Rochester Limousine as soon as possible!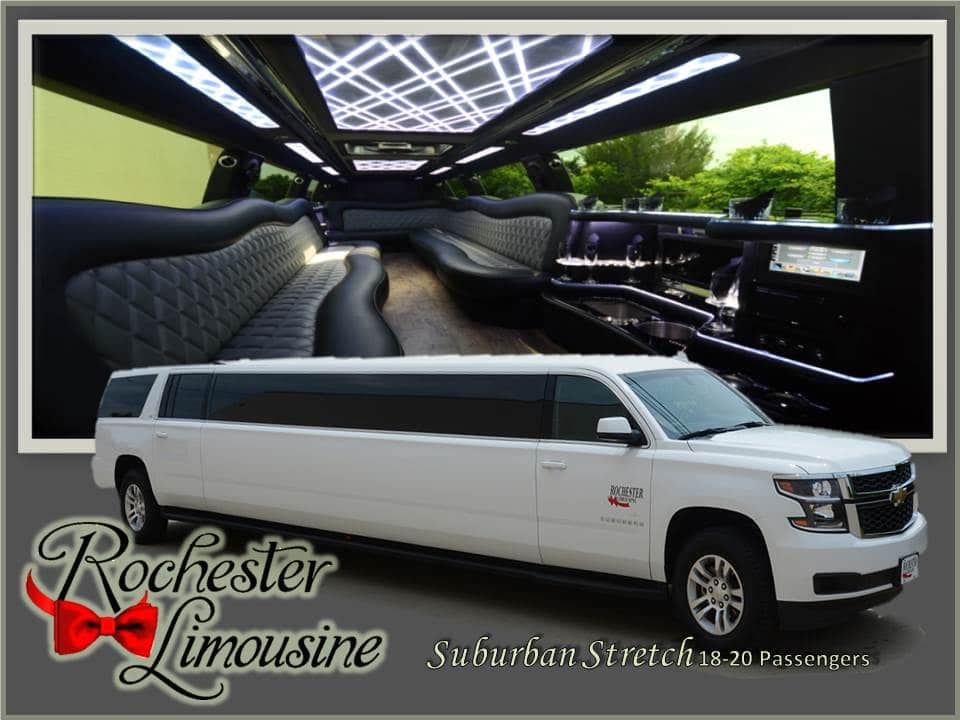 Limousine Service Commerce Township MI
With more than 20 years of experience, Rochester Limousine is excited to help you enjoy "A Night To Remember" by offering you access to the most luxurious limousine services in Commerce Township, MI. The official Charter Township of Commerce in Oakland County is home to vast rolling hills, rich farmland, the Huron River, and more than 40,000 lucky residents. Countless inland lakes offer ample peace and seclusion, while the surrounding recreational areas provide all the immersive entertainment residents of Commerce Township could ever need. However, if it's excitement that you're after, you likely won't find it in Commerce Township – unless you count the legend of the Eagle Scout who built a nuclear reactor in his backyard back in the '90s. The good news is getting out of Commerce Township and finding amazing opportunities isn't difficult – all you have to do is choose a destination, your companions, and your preferred means of transportation and you're off! In fact, by choosing our limousine service at Rochester Limousine to be at your beck and call, you can be sure every trip you take outside Commerce Township will be well worth it!
If you are in the Commerce Township area and are looking for limousine service Commerce Township MI, please contact us today by calling 248.289.6665 or by filling out the form below: