Limousine Service Roseville MI
Are you looking for limousine service Roseville MI?
At Rochester Limousine, our extraordinary limousine service is more than just the best means of getting you and all your most important guests from Roseville to gatherings and events near and far, like weddings, parties, proms, and more. Our limousine service is for those who desire to go all out for the people they care about, those who want to make a significant impression, and those who simply like to have a lot of fun. It doesn't matter to us if it's just you and a few close friends trying to make the most of a shopping trip to the city, or you have a large group of people going with you to a major show or game, we're merely happy to help you have a great time taking advantage of our versatile limousine service. Best of all, renting our limousine service for any occasion you have coming up is as easy ordering a meal at restaurant. All you have to do is tell our friendly limousine service specialists exactly what you're looking for and where in Roseville we need to come pick you up, and we'll help you set aside the perfect luxury vehicle to exceed your expectations. From our 20-seater Suburban Stretch limos, to our cozier yet equally stunning Chrysler 300 models (for up to 9-12 passengers), there's just no way you could ever regret choosing one of the lavish vehicles in our fleet at Rochester Limousine. After all, our limousine service was voted Metro Detroit's best more than once for a reason!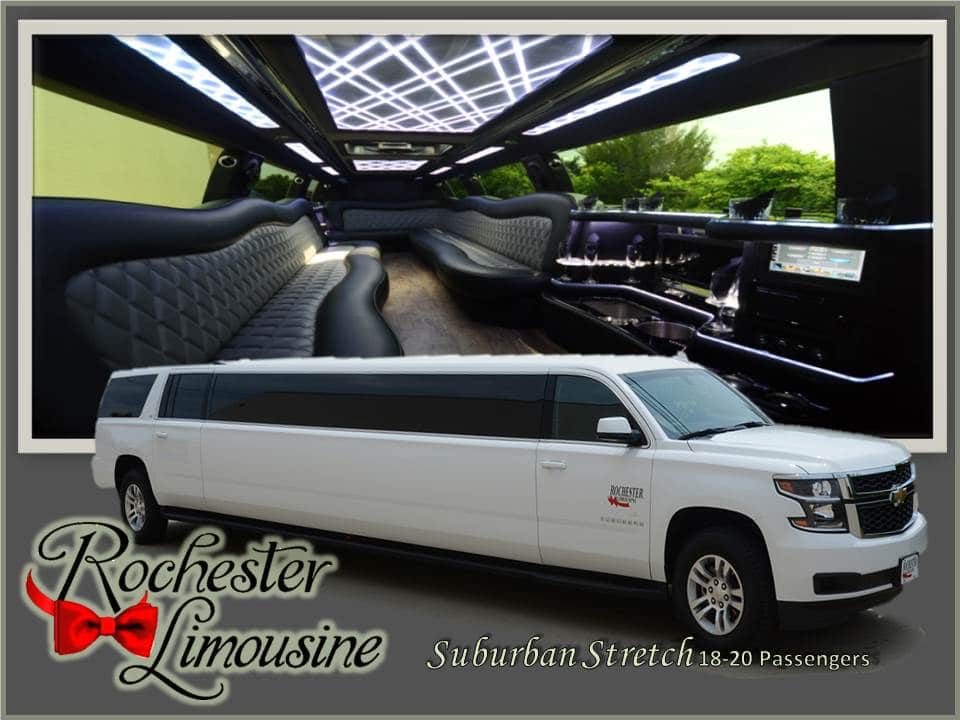 Limousine Service Roseville MI
Rochester Limousine is excited to help you enjoy "A Night To Remember" by offering you access to the most luxurious limousine service anywhere in or beyond Roseville, MI. Just north of the elite Grosse Pointe communities Macomb County's city of Roseville resides, offering a fantastic way of life for nearly 50,000 proud citizens. Roseville's location close to but still outside the city of Detroit makes it a great neighborhood for those who love convenience, and with Lake St. Clair right down the road you know the recreation in the area is always on point. However, when it comes to upscale entertainment, Roseville is unfortunately not at the top of anyone's go-to list of places to visit. On the up side, Roseville is in a great location to access any and everything you and your guests may be interested in, which means all you have to do is figure out your transportation. Of course, it's already been established our limousine service at Rochester Limousine is the best, so what are you waiting for? All the adventures outside of Roseville are just waiting for you to discover them!
If you are in the Roseville area and are looking for limousine service Roseville MI, please contact us today by calling 248.289.6665 or by filling out the form below: