Limousine Service Madison Heights MI
Are you looking for limousine service Madison Heights MI?
If you are looking for a limousine service to help turn your ordinary night outside Madison Heights into an extraordinary one, you need to put your trust in our transportation professionals at Rochester Limousine. Not only were we voted the best limousine service in all of Metro Detroit two years in a row, but our fleet of luxury vehicles include the newest and hottest in the city! Our Suburban Stretch limo, for example, is our largest and most luxurious vehicle, with three large, built-in televisions, two large bar areas, state-of-the-art lighting, wrap around seating, and more for groups of 18-20 people to enjoy. Keeping things small instead? Even better! Our two smaller Chrysler 300 models, perfect for groups of 9-12 people, are likely just what you need – equipped with all the same amenities you'll love, with a more intimate atmosphere for your cozy convenience. In fact, it doesn't matter if you need our fleet for a wedding, concert, birthday, or any other special event, our limousine service is designed to impress your guests and facilitate the most incredible possible experience. So go ahead, and choose to make your evening out of Madison Heights the best and most unforgettable it can be with our limousine service at Rochester Limousine. Our limousine service professionals will take care of everything you need, all you have to do is give us a call and tell us where we're going!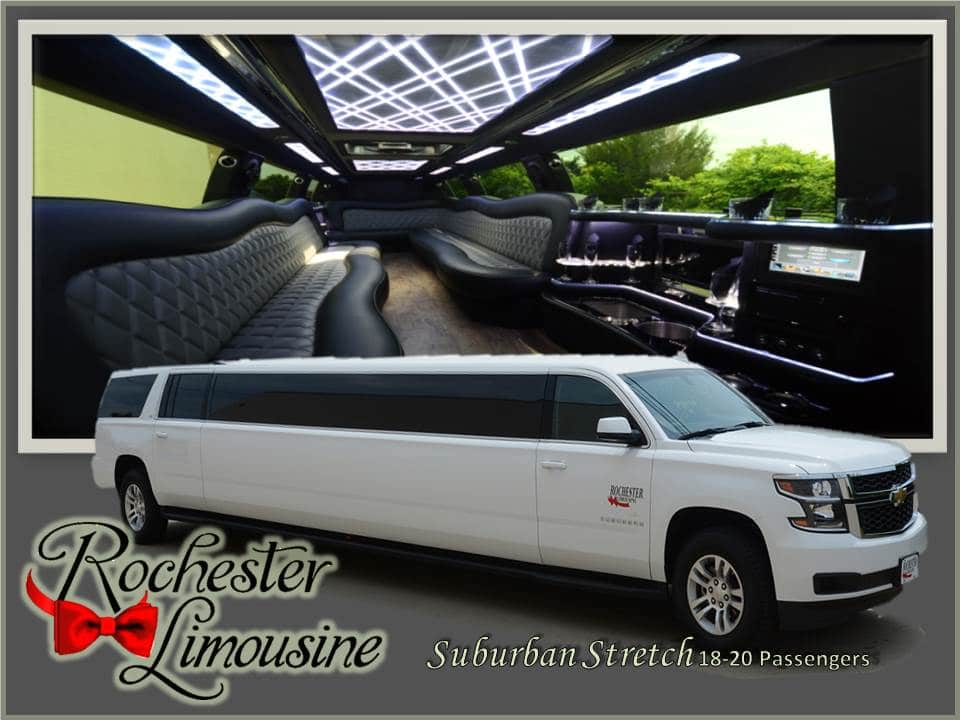 Limousine Service Madison Heights MI
Rochester Limousine is excited to help you enjoy "A Night To Remember" by offering you access to the most luxurious limousine service anywhere in or beyond Madison Heights, MI. Oakland County's Madison Heights is a suburb of Detroit, with almost 30,000 residents, which means there is always plenty to do nearby. From shopping malls to Madison Heights's Red Oaks Waterpark, there really is something for everyone. However, Metro Detroit is a massive place, filled with all kinds of exciting attractions and worthwhile events to take advantage of, and you deserve to get out of Madison Heights and enjoy them all – and Rochester Limousine is here to help! Whether you're sticking close by to Madison Heights, or going as far outside your beloved hometown as you can, our limousine service is here for you with all the bells and whistles. See for yourself just how absolutely incredible our unique limousine service is by reserving it today for your next important event. After all, Madison Heights may be beautiful, but you've never seen anything like our luxury vehicles at Rochester Limousine!
If you are in the Madison Heights area and are looking for limousine service Madison Heights MI, please contact us today by calling 248.289.6665 or by filling out the form below: