Limousine Service Clinton Township MI
Are you looking for limousine service Clinton Township MI?
If you're getting married, celebrating a birthday or anniversary, sending your firstborn off to their first prom, or are otherwise preparing for an event that will soon change your life, we encourage you to consider taking advantage of our extraordinarily elegant limousine services at Rochester Limousine. Perfect for any journey, our limousine services include several uniquely sophisticated vehicular options to help meet your transportation needs. Our largest vehicle, our Suburban Stretch limo, can easily seat up to 20 people comfortably, which is more than most limousine services can claim! If, however, you don't quite need that much space, our Chrysler 300 models seat 9 and 12, without compromising one bit on comfort or amenities. And speaking of amenities, our limousine services offer them all! From built-in televisions, sound systems, strategic lighting, and onboard bars; to other incredibly sophisticated features, like cozy wrap-around seating and wood flooring; our luxuriously well-equipped limos are designed to impress. So the next time you feel like planning a trip for you, and some of your friends or loved ones, in Clinton Township, don't neglect to reach out to our limousine service specialists at Rochester Limousine first. So long as you choose our limousine services, we'll do whatever it takes to ensure your experience with us is nothing short of fantastic!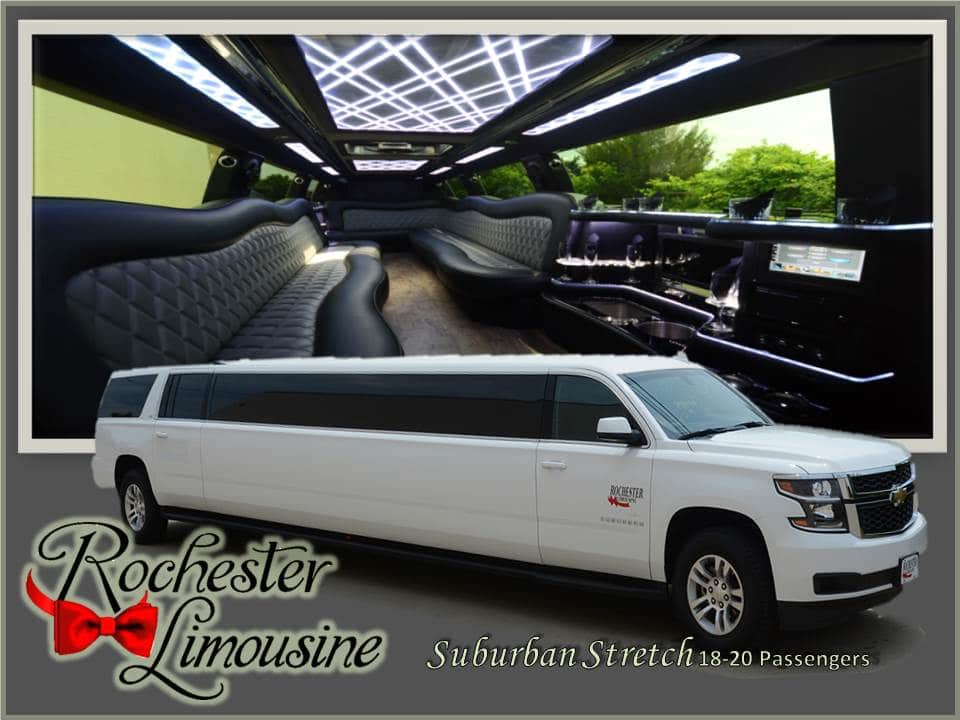 Limousine Service Clinton Township MI
With more than 20 years of experience, Rochester Limousine is excited to help you enjoy "A Night To Remember" by offering you access to the most luxurious limousine services in Clinton Township, MI. As Michigan's most populated township, boasting close to 100,000 residents, Clinton Township is easily one of the most popular areas in Macomb County. Residents of Clinton Township have Anchor Bay, and Lake St. Clair to the east, Detroit to the south, and tons of opportunities for adventure to the west. In fact, Clinton Township is pretty well known for being an incredibly balanced community. No matter how many clean parks there are, how beautiful the Clinton River looks flowing through the township, or how many upscale neighborhoods with famous residents can be found, Clinton Township is still just only one small part of Metro Detroit. In order to really experience everything that the stunning state of Michigan has to offer, you have to be willing to get out of your comfort zone in Clinton Township, and explore something new! The good news is we are here for you every step of the way, all you have to do is figure out where outside of Clinton Township you want to go, and let our limousine services at Rochester Limousine handle the rest!
If you are in the Clinton Township area and are looking for limousine service Clinton Township MI, please contact us today by calling 248.289.6665 or by filling out the form below: