Limousine Service Clarkston MI
Are you looking for limousine service Clarkston MI?
Like Clarkston, our limousine service at Rochester Limousine offers much more than what first meets the eye. Our fleet of luxury vehicles, for instance, may look extraordinary, but our limousine service was voted the best in Metro Detroit twice in a row for more than just its style. From versatility and reliability, to aesthetic and comfort, our limousine service is designed to simply always come out on top. Best of all, no matter where you want to go, or how many people are interested in joining you, our limousine service specialists have a transportation solution that is perfect for you. For our passengers traveling in larger groups, our 20-seater Suburban Stretch limos offer some of our most impressive amenities, including three separate built-in televisions, sophisticated wood flooring, two distinct bar areas, spacious wrap around seating, and so much more. However, that doesn't mean our adorable 9 to 12-seater Chrysler 300 limos are out for the count. With incredible sound systems, one-of-a-kind lighting displays, and endless possibilities, this cozy vehicle has all the charm of a traditional limo and enough entertainment to satisfy any guests. Get in touch with one of our limousine service specialists today to learn more about why you should make our exceptional fleet your number one choice for all your most important transportation needs. After all, whether you're staying in Clarkston for a local event, or hoping to get out to the city for a while, there's no way you'll regret traveling via our limousine service at Rochester Limousine.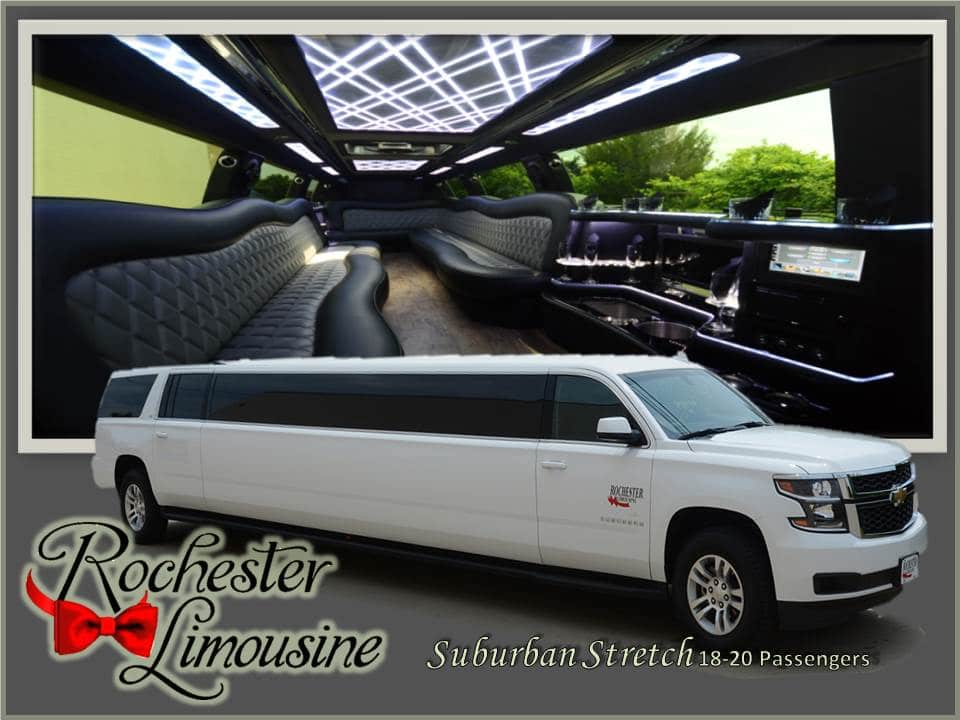 Limousine Service Clarkston MI
With more than 20 years of experience, Rochester Limousine is excited to help you enjoy "A Night To Remember" by offering you access to the most luxurious limousine services in Clarkston, MI. Known officially as the City of the Village of Clarkston, Oakland County's tiny community of Clarkston is tough to beat. Its humble size allows its less than 900 residents to live exclusive lives amidst numerous peaceful lakes and recreational areas without concern, while at the same time offering streamlined access to downtown Detroit via both I-75 and US 24. The only real concern most residents in Clarkston have is figuring out how everyone is going to get together and carpool to all the incredible places and events there are to enjoy throughout the area, including the DTE Energy Music Theatre! Well, luckily that's where we come in. At Rochester Limousine, we specialize in facilitating extraordinary experiences for passengers from Clarkston and beyond with our phenomenal limousine service. We're confident once you try our amazing limos out for yourself, you won't be able to wait to get out of Clarkston again and again!
If you are in the Clarkston area and are looking for limousine service Clarkston MI, please contact us today by calling 248.289.6665 or by filling out the form below: