Party Bus Rental Wixom MI
Are you looking for a party bus rental Wixom MI?
Browse through Metro Detroit's newest and hottest fleet of party bus rentals, and other extravagant vehicles, at Rochester Limousine, and see what it's really like to travel in style like a true VIP. No matter what kind of event or occasion you're celebrating, from birthday parties to prom nights, and every other memorable moment in between, our party bus rentals can easily enhance your experience and impress whoever you have tagging along for the ride. Expecting game day traffic? No problem! With a party bus rental you can keep up with all the action happening live on a big screen from the comfort of your very own mobile lounge so that you never miss out on a minute of the action. Want to get your girls pumped up for a bachelorette party? With full-service bars, custom hardwood dance floors, special lighting, and pro sound systems onboard, our party bus rentals are more than well-equipped to get your group of gals up and dancing in no time. With room for up to 45 people in our largest party bus rentals, you can enjoy the company of all your closest friends and family without ever having to leave someone behind. Choose the party bus rentals that were voted best in Metro Detroit twice in a row – choose Rochester Limousine.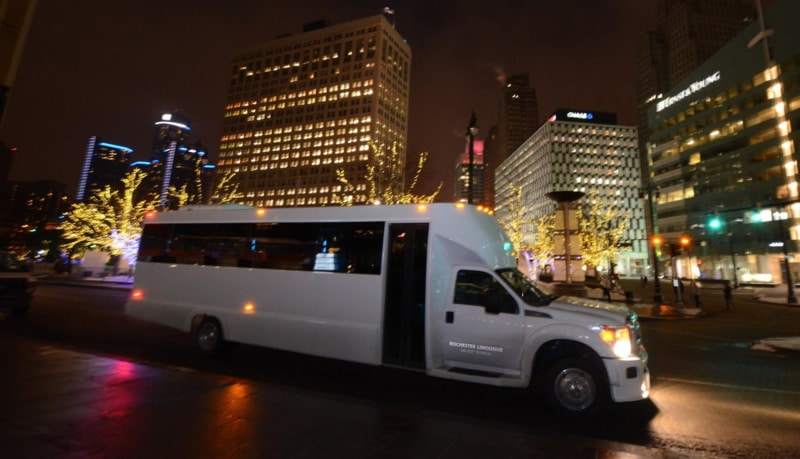 Party Bus Rental Wixom MI
With more than 20 years of experience, Rochester Limousine is excited to help you enjoy "A Night To Remember" by offering you access to the most luxuriously affordable party bus rentals in Wixom, MI. The city of Wixom, which sits on the borders of both Novi Township and Commerce Township, in Oakland County, is a particularly vibrant and developed area. With well over 13,000 residents, Wixom thrives at sustaining a stable economy by welcoming and providing a home for many massive corporations and manufacturing plants. Of course, it's not all concrete and business in Wixom. The Wixom Village Center is a highly-developed entertainment area downtown that offers residents the freedom to shop, dine, and explore to their hearts content. Other more secluded and natural destinations that can be found and appreciated in Wixom are the Proud Lake State Recreation Area, Gibson Park, and the Lyon Oaks County Park to name a few. Regardless of whether you're the type of person to stay local or venture out in search of something incredible, Wixom offers plenty of amenities and opportunities to enjoy all year long. However, if you live in Wixom and you are the type of person to crave a little adventure once in a while, go all out and reserve a party bus rental from Rochester Limousine. From lavish comfort to extraordinary entertainment, there's simply no better party bus rentals to travel in!
If you are in the Wixom area and are looking for a party bus rental Wixom MI, please contact us today by calling 248.289.6665 or by filling out the form below: