Party Bus Rental Novi MI
Are you looking for a party bus rental Novi MI?
The newest and hottest fleet of party bus rentals and other luxury vehicles is here at Rochester Limousine, and we can't wait to help get you into one. Whether you're celebrating a special birthday or some other major milestone, our party bus rentals are designed to make your celebration or outing truly exceptional. With state-of-the-art entertainment systems in place to help get your party started, and cozy accommodations and a full bar to help keep you relaxed for your adventures ahead, there's no better way to start your journey off right than with a party bus rental from Rochester Limousine. Have a large group? No problem! We have party bus rentals available that seat up to 45 people, with plenty of room for everyone to stay comfortable the entire time. When it comes to safety, reliability, and overall satisfaction, you have to experience the superiority of our party bus rentals for yourself. After all, our party bus rentals and other luxury vehicles were officially voted the best in Metro Detroit – twice!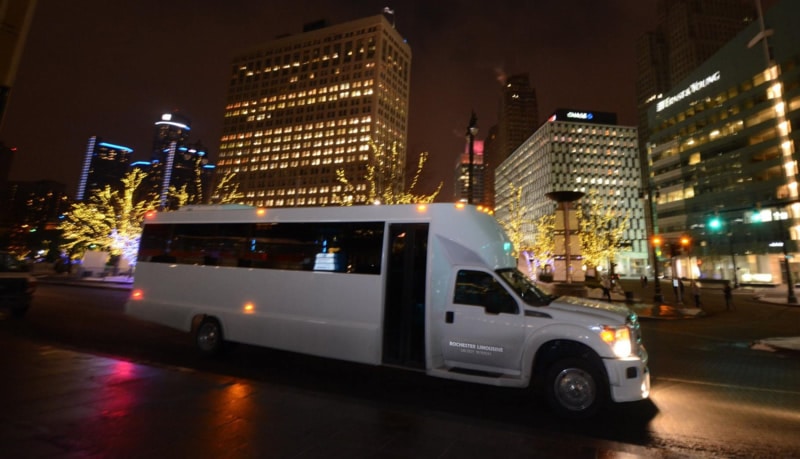 Party Bus Rental Novi MI
With more than 20 years of experience, Rochester Limousine is excited to help you enjoy "A Night To Remember" by offering you access to the most luxuriously affordable party bus rentals in Novi, MI. With a grand total of more than 55,000 Oakland County residents thriving here, the bustling city of Novi in Novi Township is no-doubt doing everything right. As one of the fastest growing cities in all of Michigan, Novi boasts a number of attractions, amenities, and opportunities for citizens of all needs and interests, including numerous parks, historical sites, recreational areas, commercial and industrial developments, fantastic healthcare, a vibrantly diverse populace, great schools, and more, as well as all kinds of beautiful and moderately priced homes. The Twelve Oaks Mall is an especially cherished destination in Novi thanks to its role in making the city what it is today, as are the Emagine Novi Theater, the Novi Town Center, and the Sri Venkateswara Temple and Cultural Centre. Of course, no matter where you go or what you're doing in Novi you are bound to have an incredible time no matter who you are, it's just simply an amazing place to be. If you want to take advantage of transportation just as exceptional, reach out to our transportation professionals at Rochester Limousine and ask about getting your hands on one of our luxury party bus rentals for your next event!
If you are in the Novi area and are looking for a party bus rental Novi MI, please contact us today by calling 248.289.6665 or by filling out the form below: