Party Bus Rental Sylvan Lake MI
Are you looking for a party bus rental Sylvan Lake MI?
Find Metro Detroit's newest and hottest fleet of party bus rentals, and other luxury vehicles, at Rochester Limousine, and see what it's really like to travel in style like a true VIP. From birthday parties, anniversary parties, and bachelor/ette parties to concerts, shows, and sporting events, there is no transportation more spacious, comfortable, or reliable than the party bus rentals at Rochester Limousine. With top-of-the-line safety features, endless entertainment technologies, and spacious seating for as many as 45 people in our largest vehicles, our party bus rentals are incredibly versatile when it comes to suiting any traveler's needs, meaning they're ready and well-equipped to tackle any transportation challenges that come your way! Allow our experts to effectively ensure that your magical moments are as memorable as they can be by reaching out and asking about which of our party bus rentals are right for you. Whether you are headed somewhere special and need to show up ready to impress or you simply know you deserve to be treated like royalty for a night or two, our party bus rentals will always exceed your expectations. Voted best in Metro Detroit two year in a row, you can't get better than the party bus rentals at Rochester Limousine.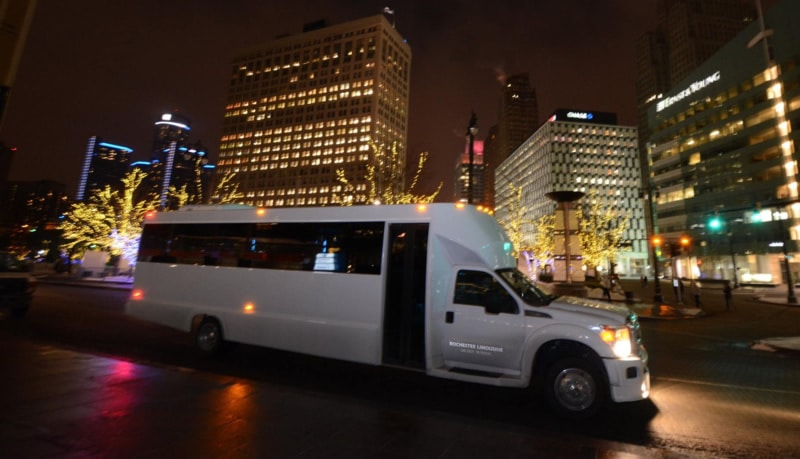 Party Bus Rental Sylvan Lake MI
With more than 20 years of experience, Rochester Limousine is excited to help you enjoy "A Night To Remember" by offering you access to the most luxuriously affordable party bus rentals in Sylvan Lake, MI. The humble little residential city of Sylvan Lake is home to more than 1,500 proud Oakland County residents. Quite a small town, coming in at less than one square mile, Sylvan Lake shares many of its resources with its close neighbors. In fact, even the education in Sylvan Lake is "outsourced" to these adjacent communities, with families able to choose between the Pontiac School District, and the West Bloomfield School District for their children's education. However, despite the seeming lack of entertainment available throughout Sylvan Lake, the area is full of lakes, parks, and other beautiful areas worth exploring. If you don't mind a short drive, Auburn Hills, Rochester, Birmingham, and other popular and vibrant communities are not very far away from Sylvan Lake at all, each offering their own brand of entertainment unique to their towns. From friendly residents and beautiful neighborhoods, to impeccable communal safety and a vast wilderness of possibilities just waiting to be taken advantage of, there's no doubt that despite its lack of fame and glamour Sylvan Lake is a wonderful place to call home. If you live in Sylvan Lake and you are looking for incredible luxury transportation to help bring a little more glamour into your life, reserve your party bus rental from Rochester Limousine today!
If you are in the Sylvan Lake area and are looking for a party bus rental Sylvan Lake MI, please contact us today by calling 248.289.6665 or by filling out the form below: