Party Bus Rental Pleasant Ridge MI
Are you looking for a party bus rental Pleasant Ridge MI?
Part of the newest and hottest fleet in Metro Detroit, our party bus rentals, at Rochester Limousine, are ready to take on any transportation challenges you may have. Whether you need to figure out how you are going to get a massive group of out-of-town wedding guests to your venue on time, or you want to really impress someone special for their birthday or other special occasion, our party bus rentals can handle it all because they are all built to impress. With our largest vehicles capable of accommodating as many as 45 passengers and plenty of entertainment onboard to keep any audience entertained, you won't find a better or more comfortable way to travel than by our luxury party bus rentals. At Rochester Limousine, our party bus rentals are top-of-the-line, and our customer support is always on point, because we care about ensuing the best possible experience for our clients at all times. If you want to take advantage of a party bus rental for your next night out on the town, make sure you choose Rochester Limousine. After all, our party bus rentals and other luxury vehicles weren't voted the best two years in a row for nothing!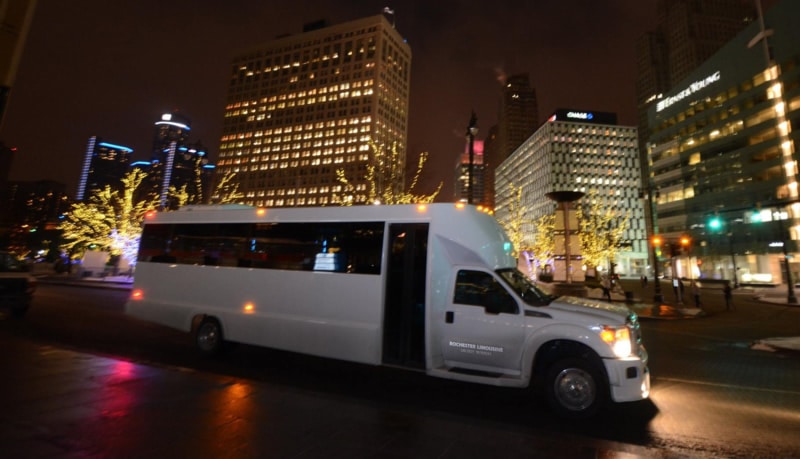 Party Bus Rental Pleasant Ridge MI
With more than 20 years of experience, Rochester Limousine is excited to help you enjoy "A Night To Remember" by offering you access to the most luxuriously affordable party bus rentals in Pleasant Ridge, MI. Conveniently close to several major highways, the city of Pleasant Ridge, in Oakland County, boasts access to tons of great destinations throughout the area. In fact, for the more than 2,500 residents who live in Pleasant Ridge, it's a perfect little suburbia. With all the attractions in Royal Oak, including numerous theaters/venues and clubs, just north of Pleasant Ridge and tons of vibrant nightlife and delicious food available at the intersection of Nine Miles Rd and Woodward Ave to the south, it's hard to deny that this little community is a wonderful one. Plenty of parks, and the Detroit Zoo, offer Pleasant Ridge residents all the great outdoors they need, yet if they want to take a drive they are never far from countless lakes and other rural destinations. Filled with beautiful upscale homes and friendly people, Pleasant Ridge is a truly one-of-a-kind place to live. However, as stunning as Pleasant Ridge's residential neighborhoods are, there is far too much excitement in the world to not explore. If you live in Pleasant Ridge and need help exploring all your favorite places in Metro Detroit and experiencing truly one-of-a-kind transportation worthy of your hometown, reserve your party bus rental at Rochester Limousine today.
If you are in the Pleasant Ridge area and are looking for a party bus rental Pleasant Ridge MI, please contact us today by calling 248.289.6665 or by filling out the form below: