Party Bus Rental Royal Oak MI
Are you looking for a party bus rental Royal Oak MI?
From natural recreation to world-class entertainment, the state of Michigan offers a diverse variety of opportunities for people of all walks of life to enjoy. At Rochester Limousine, our goal is simple – to make exploring the state you love even easier with luxury party bus rentals capable of impressing all your friends and family. There is no better way to get where you need to go safely and on time than the party bus rentals from Rochester Limousine. Whether you have a massive group of up to 45 people or are trying to acquire romantic transportation for a more intimate occasion, Rochester Limousine can help you choose the right party bus rental to exceed you expectations. See why so many people are choosing Rochester Limousine as their preferred provider of party bus rentals and other luxury transportation today by taking a leap of faith and finally booking one for yourself. You will not be disappointed.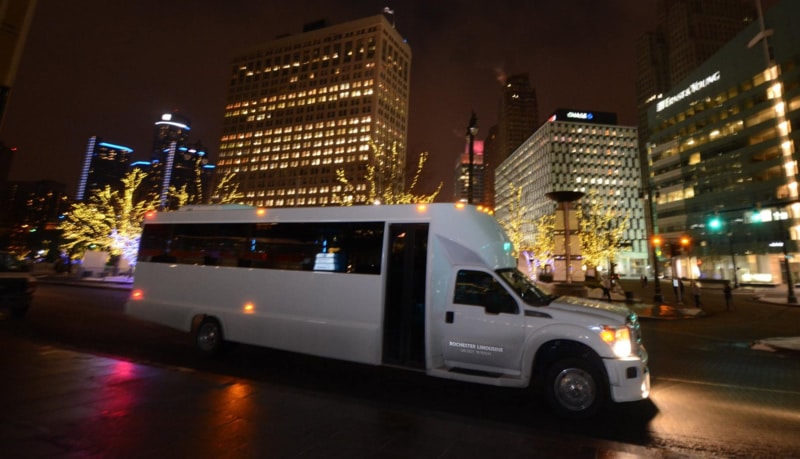 Party Bus Rental Royal Oak MI
With more than 20 years of experience, Rochester Limousine is excited to help you enjoy "A Night To Remember" by offering you access to the most luxuriously affordable party bus rentals in Royal Oak, MI. With nearly 60,000 residents, the Oakland County community of Royal Oak boasts itself as the 27th largest municipality in the entire state of Michigan. With a rich history that began with Native Americans and French-Canadian settlers more than 100 years ago, Royal Oak has since grown into the vibrant central point for most of the nightlife and entertainment in the area. With more than 90 specialty shops and retail establishments, over 70 mouthwatering eateries, and more than five miles of pedestrian-friendly downtown paths to help explorers find everything they're looking for, Royal Oak chooses to offer a unique way of life that focuses more on ensuring residents and tourists have everything they need to sustain the greatest life possible rather than simply settling with unbeatable natural beauty and communal services. Whether you're young and full of life or getting older and looking for a great place to just relax and enjoy your remaining years, Royal Oak is one of the best neighborhoods to find everything you could need and more. No matter how old you are or what you're celebrating, let Rochester Limousine be there to make it memorable with party bus rentals that will have you questioning why you haven't made the call sooner. It's never too late to enhance your night out with a party bus rental from Rochester Limousine.
If you are in the Royal Oak area and are looking for a party bus rental Royal Oak MI, please contact us today by calling 248.289.6665 or by filling out the form below: