Party Bus Rental Northville MI
Are you looking for a party bus rental Northville MI?
Voted the best in Metro Detroit two years in a row, Rochester Limousine offers the newest and hottest fleet of luxury party bus rentals out there! With incredible features built in for your entertainment, like large flat screen televisions, personal onboard bars, great sound systems, and more, you can feel confident that your passengers will always be entertained on one of our party bus rentals no matter where you're going. And when it comes to comfort, we've got plenty of room for all your family and friends thanks to our largest and most spacious party bus rentals, which can easily hold up to 45 adults. If you want to make sure you and your guests arrive where you're all going safe and with impeccable style, you simply cannot beat the party bus rentals at Rochester Limousine. From birthday parties and bachelorette parties, to major concerts and sporting events, our party bus rentals are perfect for any and every occasion. Reserve a party bus rental for your next big night out before it's too late!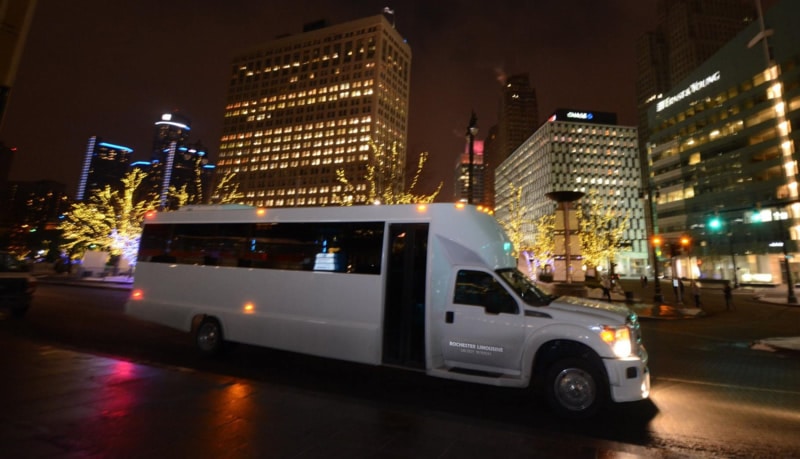 Party Bus Rental Northville MI
With more than 20 years of experience, Rochester Limousine is excited to help you enjoy "A Night To Remember" by offering you access to the most luxuriously affordable party bus rentals in Northville, MI. Shared by both Oakland and Wayne Counties, the city of Northville houses nearly 6,000 Michiganders living between the city of Novi on one side and Northville Township on the other. Northville is located in a great spot for those who love to be near majorly developed areas without living right in the center of all the action, and is less than only 30 miles from both Ann Arbor and Detroit. Filled with beautiful mansions and massive estates, Northville boasts plenty of beauty no matter what part of town you're in. Northville is also a close-knit and friendly place to live, offer tons of amazing festivals and events throughout the year such as the Art in the Sun festival in June, the Heritage Festival in September, the Fire and Ice Festival in January, and so many more. From its historical significance, to its timeless magnificence, Northville is a luxurious place to be lucky enough to live, work, and play in. For equally luxurious transportation to help get you from Northville to all your favorite Metro Detroit destinations, reserve your party bus rental from Rochester Limousine, today. There truly is no one more committed to your satisfaction than us!
If you are in the Northville area and are looking for a party bus rental Northville MI, please contact us today by calling 248.289.6665 or by filling out the form below: