Party Bus Rental Milford Township MI
Are you looking for a party bus rental Milford Township MI?
Our phenomenal fleet of luxury party bus rentals at Rochester Limousine, has been recognized as the best in Metro Detroit multiple times for a reason. Of course, from our party bus rentals' safety and reliability, to their superior design, it's hard for even us to pick just one! All you have to do to take advantage of them all is to reserve one of our party bus rentals for yourself. Perfect for absolutely every possible occasion, and capable of easily accommodating up to 45 passengers at a time, we're confident that our party bus rentals can effectively satisfy all your transportation needs, no matter who you are or where you're going. Equipped with professional-grade entertainment systems, onboard bars, and so much more, our party bus rentals prove that there's simply no better way to travel. So don't be shy, reach out to one of our highly-trained professionals at Rochester Limousine to reserve your party bus rental today.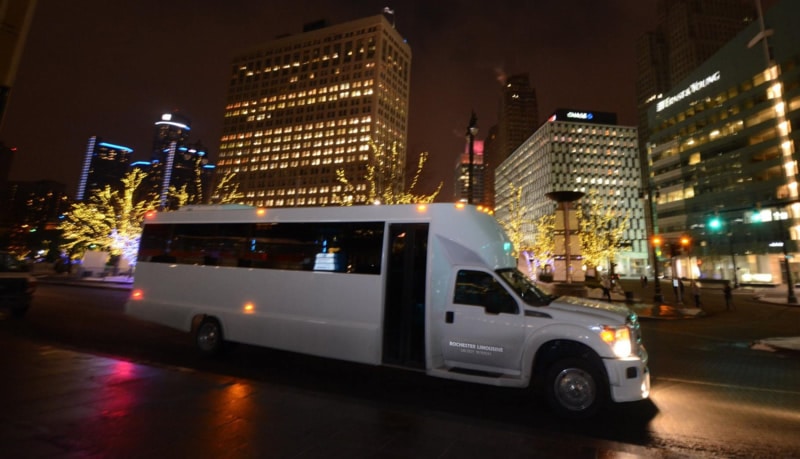 Party Bus Rental Milford Township MI
With more than 20 years of experience, Rochester Limousine is excited to help you enjoy "A Night To Remember" by offering you access to the most luxuriously affordable party bus rentals in Milford Township, MI. Far from Detroit's skyscrapers and busy city streets, Oakland County's Milford Township provides an excellent standard of living for more than 15,000 residents every day. In fact, thanks to its location just north of Kensington Metropark, Milford Township offers a primarily rustic way of life for its residents, with plenty of natural beauty and outdoor entertainment to take advantage of throughout the year. For instance, in every direction, Milford Township boasts numerous lakes of all sizes as well as several major parks and recreational areas, including the Proud Lake State Recreation Area. In Milford Township's main community, Milford, plenty of taverns and pubs can be found, as can several destinations for canoe rentals and other unique activities. Even a place as great as Milford Township can't have everything – especially since there is so much worth exploring all over Metro Detroit! Milford Township may be a great place to live, but for all those moments you need to see and experience something new you need to get out there! To get you started off right on your adventure, we encourage you to reach out to one of our luxury transportation professionals at Rochester Limousine, today, to learn more about how you and all your friends from Milford Township can enjoy one of our one-of-a-kind party bus rentals!
If you are in the Milford Township area and are looking for a party bus rental Milford Township MI, please contact us today by calling 248.289.6665 or by filling out the form below: