Party Bus Rental Milford MI
Are you looking for a party bus rental Milford MI?
Got a special birthday coming up or a fancy event that you want to show up for in style? No problem! At Rochester Limousine, we have party bus rentals and other luxury vehicles to suit any needs no matter who you are. From bachelorette and anniversary parties, to sweet sixteen celebrations and prom nights, nothing else makes a magical night even more magical quite like a party bus rental from Rochester Limousine. Equipped with all the latest and greatest road safety features and entertainment amenities, our party bus rentals can keep any group entertained for as long as it takes to arrive safe and sound at your selected destination, meaning that even if you've got kids tagging along with you they will always have something to help keep them occupied. With room for as many as 45 passengers onboard, the possibilities for fun are endless so long as you have a party bus rental from Rochester Limousine. Don't wait around any longer to decide if attaining a party bus rental for your next event is right for you. Instead, simply trust that as transportation professionals we always have your best interests at heart – and what's in your best interest is to take advantage of our impressive party bus rentals at Rochester Limousine.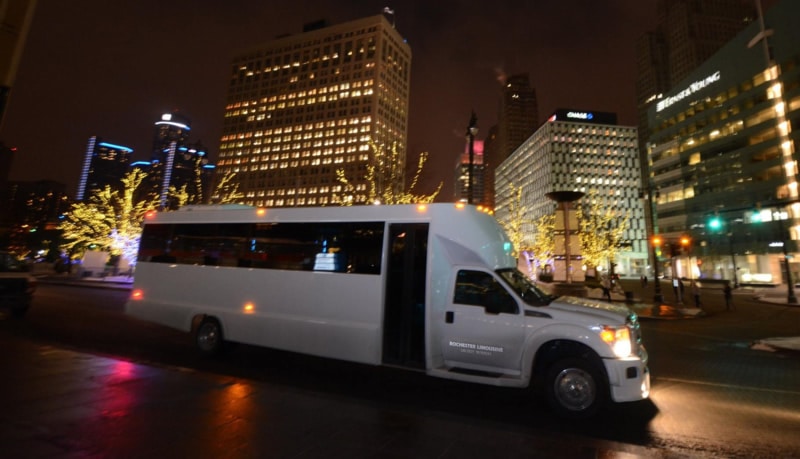 Party Bus Rental Milford MI
With more than 20 years of experience, Rochester Limousine is excited to help you enjoy "A Night To Remember" by offering you access to the most luxuriously affordable party bus rentals in Milford, MI.  Milford is a small community of Milford Township in Oakland County that serves as home to more than 6,000 residents, including a few noteworthy industry professionals such as Mary Jackson, Dax Shepard, and more. Aside from its beautiful homes and stunning views, Milford is most famous for its abundance of recreation. Residents and tourists of Milford especially love spending time at destinations that offer the chance to be outside in the sun, like Kensington Metropark, Kensington Mills Falls Mini Golf, the Mystic Creek Golf Course, any of the numerous local canoe and kayak rental spots, and more. Anyone up for a drive can also enjoy any of the other incredible attractions and hot spots surrounding Milford, in places like Oakland, Wixom, and Brighton to name a few. From fishing and hiking, to shopping and having a drink at a local bar, Milford truly is a marvelously simple little rural town with plenty to enjoy throughout the year. If you live in Milford and want to make your next special occasion absolutely unforgettable, let our talented transportation professionals at Rochester Limousine hook you up with a ride you'll never forget. But you have to act fast before all of our incredible party bus rentals are all booked up!
If you are in the Milford area and are looking for a party bus rental Milford MI, please contact us today by calling 248.289.6665 or by filling out the form below: