Party Bus Rental Meade MI
Are you looking for a party bus rental Meade MI?
There are many reasons to fall in love with our party bus rentals at Rochester Limousine. For one thing, our luxury party bus rentals are designed to sustain optimal comfort for anyone over any extended period of time, which means you and your guests will always feel refreshed upon arrival at your destination. For another, our reliable party bus rentals are chock-full of remarkable amenities, like flat screens, private bars, festive lighting, sound systems, and more, designed to enhance your overall experience. Best of all, our spacious party bus rentals, which can easily hold as many as 45 people, are part of the newest and hottest fleet in Metro Detroit. In fact, if you want to take advantage of Metro Detroit's formally voted best luxury transportation, you have to make sure you choose one of our party bus rentals at Rochester Limousine. From extravagant day trips at vineyards to late nights in front of your favorite musical artists, Rochester Limousine is guaranteed to have the absolute best luxury vehicle for you and all the people you love.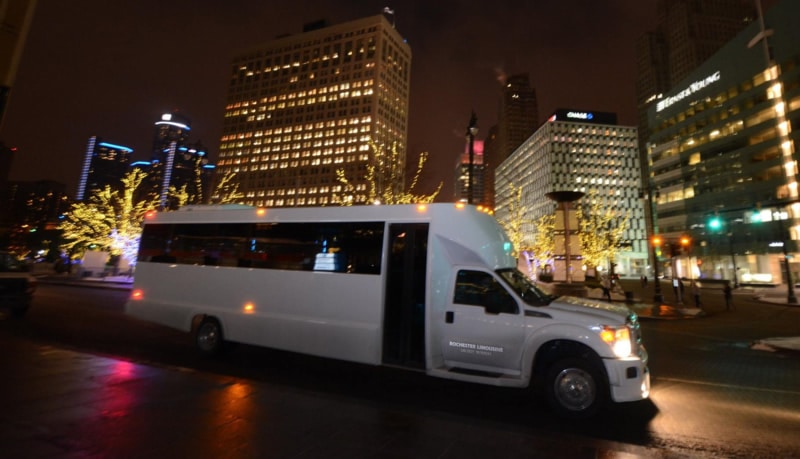 Party Bus Rental Meade MI
With more than 20 years of experience, Rochester Limousine is excited to help you enjoy "A Night To Remember" by offering you access to the most luxuriously affordable party bus rentals in Meade, MI. The small community of Meade is part of Macomb County's Macomb Township, which means in this tiny town, entertainment is plentiful. From the multitude of golf courses painting the surrounding landscape, to the numerous gaming centers and workshops for residents of all ages, Meade always has something interesting to do in its vicinity. If you feel up for some fresh air and sunshine, Meade is close to the Stony Creek Metropark, River Bends Park, the Wolocott Mill Historic Center, and more. Most importantly, Meade is just a little ways west of Lake St. Clair and all the aquatic activities happening over by Anchor Bay. Of course, as great as all that may be, Meade and its neighboring communities still can't compare in terms of the sheer number of attractions throughout the entirety of Metro Detroit. Fortunately, you can experience it all – all you have to do is get out there! To help you out, Rochester Limousine even offers residents of Meade access to incredible party bus rentals perfect for any occasion. So whether you're itching to get out of Meade for a bit, or simply itching for adventure, Rochester Limousine has a party bus rental for you!
If you are in the Meade area and are looking for a party bus rental Meade MI, please contact us today by calling 248.289.6665 or by filling out the form below: