Party Bus Rental Macomb Township MI
Are you looking for a party bus rental Macomb Township MI?
If you're going out with the people who mean the most to you, you deserve transportation that will do the most for you! Fortunately, our impressive party bus rentals at Rochester Limousine can do it all! From making sure you and your guests arrive safely and on time to your destination, to making sure everyone has a fantastic journey along the way, you simply won't find another transportation company more committed to ensuring you enjoy an unforgettably positive experience than us. In fact, our phenomenal fleet of party bus rentals was even voted number one in all of Metro Detroit for two consecutive years, so we're confident that you're sure to love them too! Whether you are celebrating your grandmother's birthday and you want to keep everyone comfortable on the way to the party, or you're just trying to find reliable luxury transportation to impress your friends on the way to a concert, our party bus rentals are designed to have everything you need and more, for an amazing adventure – no matter where you're going. Not sure which party bus rental is right for you and your group? No problem. Our party bus rental professionals can help you find exactly what you're looking for, especially since our largest vehicles can hold up to 45 people! Enjoy watching TV, dancing, listening to music, enjoying a drink, and so much more from the road by reserving your party bus rental at Rochester Limousine, today.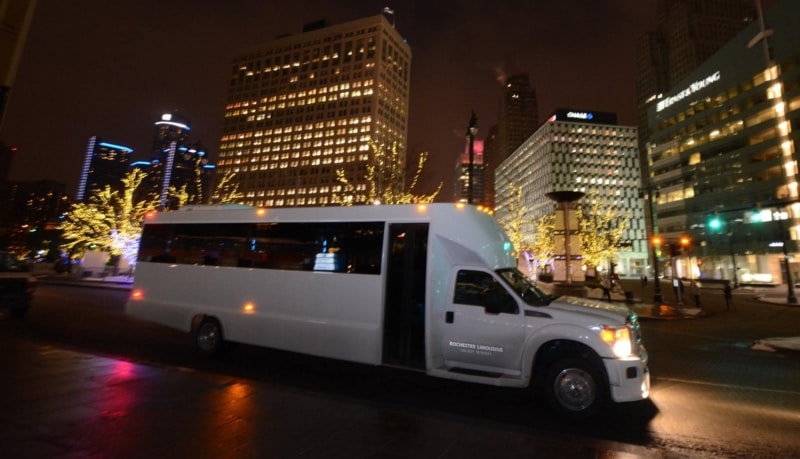 Party Bus Rental Macomb Township MI
With more than 20 years of experience, Rochester Limousine is excited to help you enjoy "A Night To Remember" by offering you access to the most luxuriously affordable party bus rentals in Macomb Township, MI. Right in the heart of Macomb County, Macomb Township serves the needs of close to 80,000 residents spread out across the communities of Macomb (Macomb Corners), Waldenburg, and Meade. In a great spot to take advantage of both modern and recreational entertainment, Macomb Township offers a variety of diverse opportunities for residents and tourists of all ages. For instance, Macomb Township boasts numerous golf courses, gaming centers, fun classes/workshops, and more in its immediate vicinity. Neighboring Macomb Township, the Wolocott Mill Historic Center, the Stony Creek Metropark, and River Bends Park are just some of the many natural areas worth exploring throughout the year. And of course, no one can forget about Anchor Bay and Lake St. Clair's assortment of coastal attractions just east of Macomb Township. However, as vibrant as Macomb Township may be, there is so much to see, do, and explore all over Metro Detroit. Fortunately, if you ever feel like getting out of Macomb Township for a bit and experiencing what else is out there for yourself, our transportation experts at Rochester Limousine can help you out. With a party bus rental for any and every occasion, we're sure to have everything you need!
If you are in the Macomb Township area and are looking for a party bus rental Macomb Township MI, please contact us today by calling 248.289.6665 or by filling out the form below: