Party Bus Rental Lake Orion Heights MI
Are you looking for a party bus rental Lake Orion Heights MI?
There's no better way to travel than by party bus rental – it's that simple. Whether you're getting 44 friends and family members together for a special birthday or anniversary party, or just hoping to expel a little loose energy with a few close friends at a concert or sporting event, there's just something incredible about rolling up in your own personal luxury party bus rental. From large flat screens and private bars, to high-grade sound systems and mood lighting for any occasion, party bus rentals are simply built for excellence. Of course, our party bus rentals, at Rochester Limousine, are the best of the best because we boast the newest and hottest fleet in all of Metro Detroit. In fact, we have even been recognized twice officially for being number one in the city! So the next time you find yourself planning an excursion somewhere, and you need transportation that is going to not only help you get where you need to be, but also ensure you have an incredible time getting there, take advantage of our party bus rentals at Rochester Limousine. Even if you aren't sure yet what you need, our party bus rental professionals have more than enough expertise to help you out!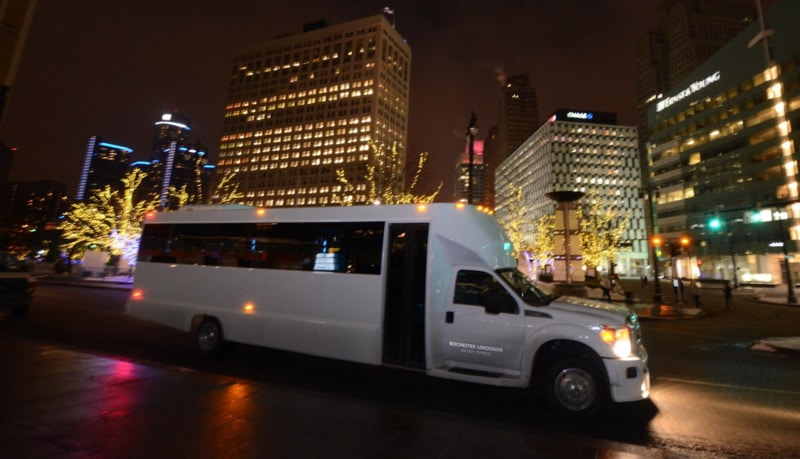 Party Bus Rental Lake Orion Heights MI
With more than 20 years of experience, Rochester Limousine is excited to help you enjoy "A Night To Remember" by offering you access to the most luxuriously affordable party bus rentals in Lake Orion Heights, MI. Lake Orion Heights is a small community in Oakland County's Orion Township with a lot to offer throughout the year in terms of recreation. Thanks to it's idyllic location, tucked between Elkhorn Lake, Square Lake, and Lake Orion, Lake Orion Heights is an especially popular destination for fishing and boating enthusiasts, as well as hikers looking to explore the numerous surrounding parks. Of course, that doesn't mean that sitting by the lake is the only pastime in Lake Orion Heights worth checking out – even if it is one of the most popular. Just east of Lake Orion Heights, Lake Orion offers numerous nightclubs and even a historical tour for those who are interested. Head southwest out of Lake Orion Heights a ways, and you'll find excellent shopping at Canterbury Village. However, if you want to really take an adventure and see all the wonderful sites and attractions Metro Detroit as a whole has to offer, you have to get out of Lake Orion Heights. Fortunately, at Rochester Limousine, we offer incredible party bus rentals for residents all throughout Lake Orion Heights and beyond – that way you have top-of-the-line luxury transportation to get you wherever you want to go!
If you are in the Lake Orion Heights area and are looking for a party bus rental Lake Orion Heights MI, please contact us today by calling 248.289.6665 or by filling out the form below: