Party Bus Rental Keego Harbor MI
Are you looking for a party bus rental Keego Harbor MI?
If you've never celebrated in a party bus rental from Rochester Limousine before, you haven't experienced incredible transportation. Trust us, nothing else quite beats the luxurious feel of our party bus rentals' comfortable seating, or the incredible entertainment features onboard such as our flat screen televisions and pro sound systems. Plus, as part of Metro Detroit's newest and hottest fleet, our party bus rentals cannot be matched in terms of overall safety and reliability. Whether you are trying to book transportation for your summer wedding, attending a concert with all your friends, or getting together with the guys for the big game, Rochester Limousine can match you with just the right party bus rental to exceed your expectations and impress your guests. And don't worry about having enough room to move around; our largest and most spacious party bus rentals, at Rochester Limousine, can effortlessly accommodate up to 45 adults. So relax, grab a drink at the bar, and enjoy the ride with us in Metro Detroit's best party bus rentals, only at Rochester Limousine.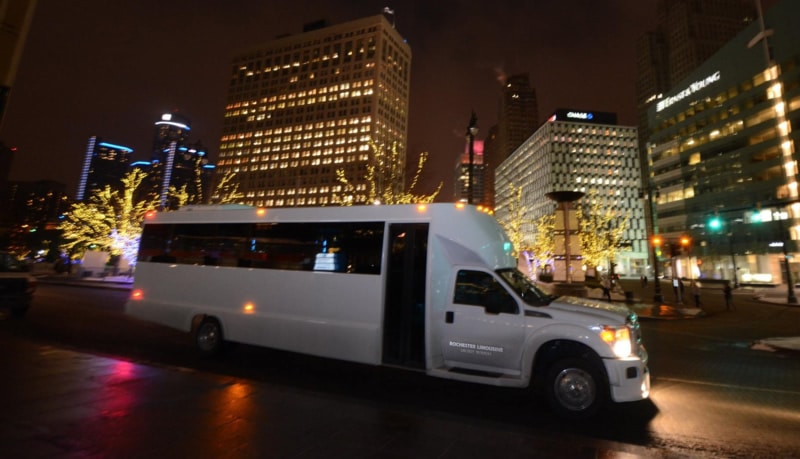 Party Bus Rental Keego Harbor MI
With more than 20 years of experience, Rochester Limousine is excited to help you enjoy "A Night To Remember" by offering you access to the most luxuriously affordable party bus rentals in Keego Harbor, MI. Nestled amongst several lakes, the tiny city of Keego Harbor, in Oakland County, is a peaceful one, effectively serving the needs of nearly 3,000 residents. Once intended to be a small resort community, Keego Harbor offers access to ample seasonal sports and aquatic activities around Dollar Lake, Cass Lake, and the numerous other waterways throughout the county. Of course, there's more to Keego Harbor than just fishing, boating, and swimming. Believe it or not, many people travel to Keego Harbor to have their fortunes told and their lives revived by a professional psychic named Aileena at the local Psychic Reading Lounge. However, if that isn't your thing, there are still plenty of other popular attractions near Keego Harbor including parks and recreational areas, waterparks, museums, art galleries, bars/clubs, shopping centers, and more. From the TreeRunner West Bloomfield Adventure Park less than six miles away to the Erebus Haunted Attraction over in Pontiac, no one can deny that Keego Harbor is close to some of the best destinations off the coast. If you live in Keego Harbor and you want to travel somewhere special in style, leave your car in the driveway and let our professionals pick you and all your guests up in an insanely lavish party bus rental chosen just for you. Rochester Limousine has already been voted the best two years in a row, book your party bus rental today and learn why.
If you are in the Keego Harbor area and are looking for a party bus rental Keego Harbor MI, please contact us today by calling 248.289.6665 or by filling out the form below: