Party Bus Rental Glengary MI
Are you looking for a party bus rental Glengary MI?
If you need to just get out and get away for a little well deserved luxury, let one of our party bus rentals from Rochester Limousine be there to pick you up! With top of the line entertainment amenities, like pro sound systems, flat screens, private bars, and more, there's simply no way you and your up to 44 guests won't have an amazing time. Don't believe us? Try one of our party bus rentals out for yourself and you'll see exactly why our fleet was voted number one in all of Metro Detroit. Whether you're merely hoping for an unforgettable ride to your favorite concert, or you want to turn your quick trip into a full-blown adventure, our party bus rentals here at Rochester Limousine are sure to exceed your expectations in every way. If you are looking for the best in transportation, you've definitely found it with our party bus rentals. Reach out to one of our party bus rental professionals today to learn more!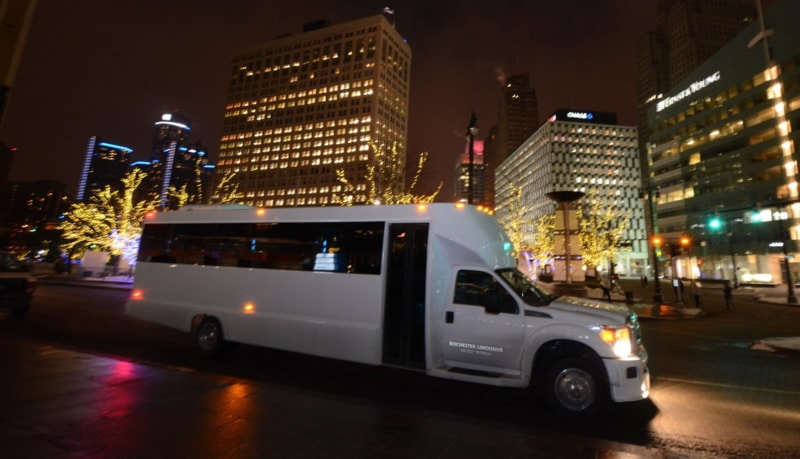 Party Bus Rental Glengary MI
With more than 20 years of experience, Rochester Limousine is excited to help you enjoy "A Night To Remember" by offering you access to the most luxuriously affordable party bus rentals in Glengary, MI. Glengary may be just a small, simple residential community in Oakland County's Commerce Township, but for the people who live there it is also a beautiful example of how life should really be. When not hard at work, the people in Glengary live relaxed lives among some of Michigan's best recreation. Countless gorgeous lakes and parks scattered throughout Glengary and the surrounding area, such as the Proud Lake State Recreation Area, Wolverine Lake, Dodge Park, and more, make fishing, boating, and hiking extremely popular activities throughout the year. Of course, for those who merely want to just sit and enjoy the views, Glengary has plenty of stunning smaller parks nearby to satisfy, including Maple Glen Park, Clara Miller Park, and Hickory Glen Park, to name a few. Just east of town, West Bloomfield Township and all of its vibrant neighborhoods always welcome residents of Glengary to enjoy the many museums and other attractions available, which means there's never a shortage of things to do. If you do want to do something a little more exciting, however, like see a concert or attend a sporting event, you may have to travel a little ways outside of Glengary. But that's okay, because at Rochester Limousine, we offer all residents of Glengary, and throughout Metro Detroit, access to the best party bus rentals in the city! Don't believe us? Reach out to one of our party bus rental experts today to learn more about how you could have the time of your life in one of our exclusive party bus rentals – available only at Rochester Limousine.
If you are in the Glengary area and are looking for a party bus rental Glengary MI, please contact us today by calling 248.289.6665 or by filling out the form below: