Party Bus Rental Ford Field
Are you looking for a party bus rental Ford Field?
From welcoming parties and sporting events to concerts and shows, Ford Field offers a variety of incredible entertainment all year long. Whether you are planning a small trip with only a few of your sports-fanatic buddies or hoping to get the whole gang together for a once-in-a-lifetime concert experience, Rochester Limousine offers party bus rentals in a variety of sizes to meet your needs and help get you where you need to be safely and in style. With enough space in our largest party bus rental to guarantee comfort for as many as 45 people, you can make sure your group arrives at the illustrious Ford Field together. Not only that, but you can also get your pre-game drink on started before arriving thanks to our party bus rentals full-service bar options or crank your favorite songs up on the sound system and take advantage of the hardwood dance floor. Whatever you love to do and whatever can make your night as special as possible, our party bus rental experts at Rochester Limousine are committed to making your dreams come true.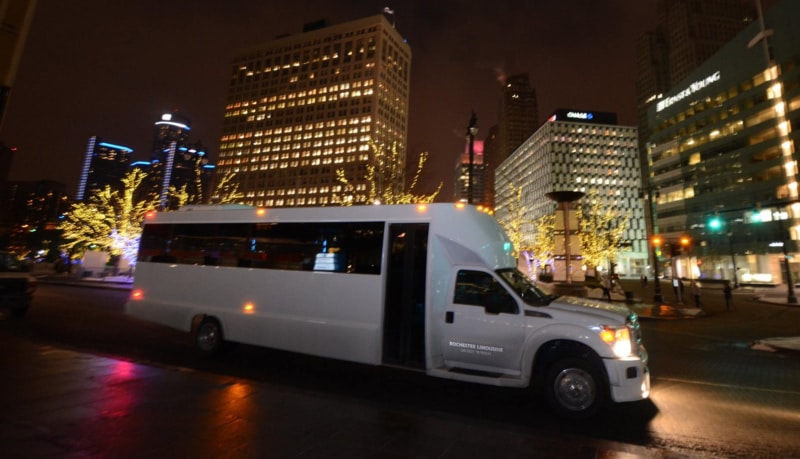 Party Bus Rental Ford Field
With more than 20 years of experience, Rochester Limousine is excited to help you and your friends and family enjoy "A Night To Remember" by providing the most luxuriously affordable party bus rentals to help you get to the infamous Ford Field in time for your favorite show or Detroit Lions game. Capable of seating anywhere from 65,000 to 80,000 people depending on the type of event, Ford Field is worth every cent of the $500 million it took to create this masterpiece. To those who live outside of Michigan, Ford Field might just seem like just another multi-purpose domed stadium, but for everyone within the Downtown Detroit area and beyond, Ford Field is a point of pride that holds valuable memories and in some cases even hope. Whether you are heading to Ford Field for a spur-of-the-moment evening of entertainment or you've been holding onto your event tickets for months, Rochester Limousine can ensure that you get where you need to be safe, sound, and on time without any hassle. All you have to do is sit back, relax, and let yourself have the time of your life in an incredible party bus rental that was picked out just for you. Contact the luxury party bus rental experts at Rochester Limousine today for more information on reserving a party bus rental for your next night out to Ford Field or anywhere else you may be interested in traveling.
If you are in the Metro Detroit area and are looking for a party bus rental Ford Field, please contact us today by calling 248.289.6665 or by filling out the form below: