Party Bus Rental Detroit Lions
Are you looking for a party bus rental Detroit Lions?
Are you, or is someone you love, a huge football fan? If so, your team has got to be the Detroit Lions because let's be honest, from attitude to determination they are champions through and through, which is why you should be out there in the stands supporting the team you love. At Rochester Limousine, we want to help you get there in style by offering you the chance to turn the whole game day into an unforgettable experience with a party bus rental specially picked for you. With impeccable sound quality, large flat screens, and full bar service you and your friends can catch every minute of the game day action from on the road, that way even if you get stuck in that awful game day traffic you can keep up with everything going on from the comfort of your own private luxury box, just like a real VIP. Don't have tickets to the game? That's okay; our party bus rentals from Rochester Limousine can effectively serve as the venue for your own exclusive viewing party. Choose a party bus rental that meets your needs, accommodating anywhere from 10 to 45 people, and watch the game up close with your friends and without any outside distractions.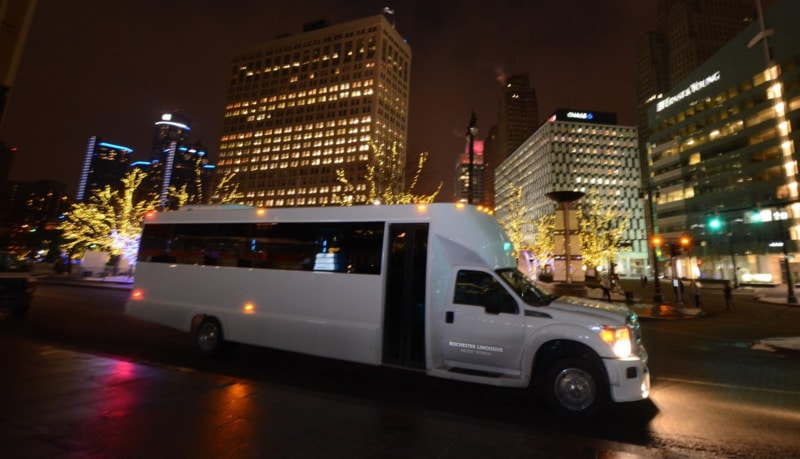 Party Bus Rental Detroit Lions
With more than 20 years of experience, Rochester Limousine is excited to help you enjoy "A Night To Remember" by offering you access to the most luxuriously affordable party bus rentals to take you to see your favorite team – the Detroit Lions. Surrounded by loyal fans, the Detroit Lions have continued to successfully nurture their reputation as a professional football team for more than 85 years. With four NFL championship wins under their belts, the Detroit Lions maintain an air of pride and a sense of dignity every time they're out on the field, which only adds to their appeal for fans throughout Michigan. The Detroit Lions call Ford Field in Downtown Detroit their home and are ready to welcome one and all to join in on all the intense thrills to come this season. If you want to be there, or at least feel like you are, take advantage of our fleet of party bus rental options available only through Rochester Limousine. Who better to take you to go see your favorite team – the Detroit Lions – play your favorite game than Michigan's favorite party bus rental provider Rochester Limousine? Voted the best in the business for two consecutive years, Rochester Limousine can help you make the most of your journey long before you even reach your destination.
If you are in the Metro Detroit area and are looking for a party bus rental Detroit Lions, please contact us today by calling 248.289.6665 or by filling out the form below: