Party Bus Rental Farmington MI
Are you looking for a party bus rental Farmington MI?
At Rochester Limousine, we have the newest and most desirable fleet of party bus rentals and other luxury vehicles in all of Metro Detroit. Whether you are celebrating someone special in your life or merely looking for reliable transportation for a larger group of people, our party bus rentals are designed specifically for satisfying our passengers in every possible way. Get unbeatable comfort for yourself and up to 44 additional passengers (for a total of 45 passengers) in one of our largest party bus rentals, and watch your guests be impressed with you and your choice of transportation. With help from our experts, you can get where you need to be safe and sound in a party bus rental that features all the latest and greatest road safety features and entertainment technologies. No one offers a better selection of brand newparty bus rentals, than Rochester Limousine. Try us out for yourself and see how easy and affordable it is to get where you need to go in style thanks to the best party bus rentals in Michigan. You will definitely not regret a second of it.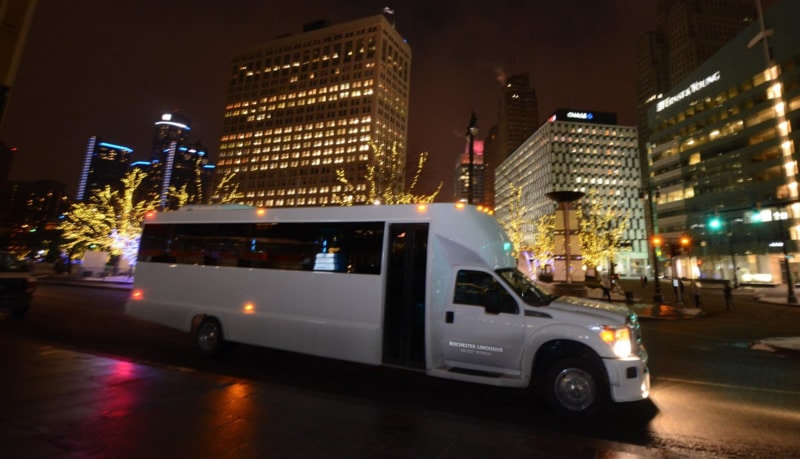 Party Bus Rental Farmington MI
With more than 20 years of experience, Rochester Limousine is excited to help you enjoy "A Night To Remember" by offering you access to the most luxuriously affordable party bus rentals in Farmington, MI. In the northern part of Detroit housing more than 10,000 residents, the small city of Farmington, in Oakland County, is surrounded by Farmington Hills and Livonia. The area is home to Farmington's picturesque historic downtown district, which is filled with sophisticated Victorian homes and exceptional schools, as well as various popular restaurants and establishments, like the Farmington Civic Theater and Basement Burger Bar. Numerous city renovations and beautification projects in Farmington help keep the community thriving, but overall Farmington's appeal comes from its diverse and welcoming atmosphere. Farmington really is a one-of-a-kind place to live, work, and play there's no doubt about it, but when it comes to travel you have to trust the professionals at Rochester Limousinee. Only Rochester Limousine has the party bus rentals and other luxury vehicles you need to make any occasion magical. Don't let another year of holidays and special moments pass you by without taking advantage of a party bus rental from Rochester Limousine. Reach out to one of our immensely helpful travel specialists today to learn more about how one of our party bus rentals from Rochester Limousine can turn your ordinary evening into an extraordinarily memorable one.
If you are in the Farmington area and are looking for a party bus rental Farmington MI, please contact us today by calling 248.289.6665 or by filling out the form below: