Party Bus Rental Farmington Hills MI
Are you looking for a party bus rental Farmington Hills MI?
When you want the highest quality luxury transportation, you have to check out Metro Detroit's newest and largest fleet of party bus rentals at Rochester Limousine. From comfort and entertainment to road safety and affordability, no one can beat Rochester Limousine's party bus rentals. No matter where you're going or who is tagging along, our largest party bus rentals can accommodate as many as 45 people at a time and take you all anywhere you need or want to go. Trying to impress some business guests from out of town? Let them travel in style in a party bus rental and reap the rewards of their gratification. Hoping to help your child make the most of a special moment, like prom or their sweet sixteen? A party bus rental will help make them the talk of their school while also secretly ensuring that they are all safely supervised, leaving less room for poor and costly decisions. Travel the right way on your next adventure by choosing a party bus rental from Rochester Limousine.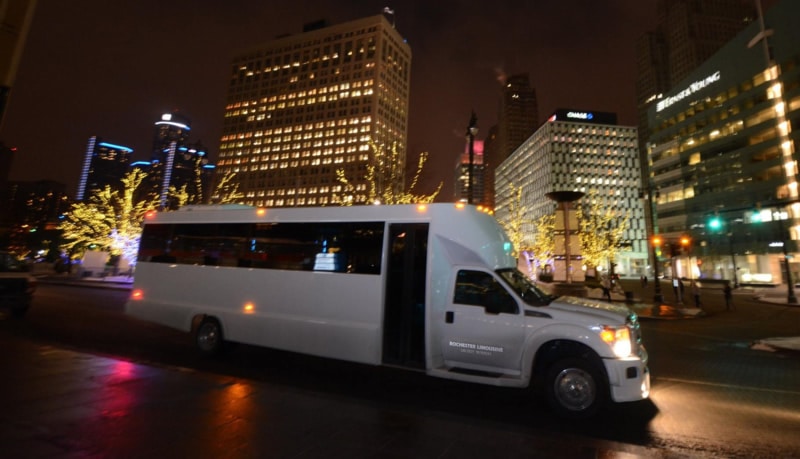 Party Bus Rental Farmington Hills MI
With more than 20 years of experience, Rochester Limousine is excited to help you enjoy "A Night To Remember" by offering you access to the most luxuriously affordable party bus rentals in Farmington Hills, MI. The second biggest city in Oakland County, with nearly 80,000 residents, is an upscale suburb in the northwestern corner of Metro Detroit called Farmington Hills. Farmington Hills ranks among the safest cities, in not only the state, but also the country. In fact, Farmington Hills remains such an incredible community that it was even recognized by 24/7 Wall St as the 14th best city in America to live, work, and play in. Some of the most well known places to visit in Farmington Hills include the Holocaust Memorial Center, Heritage Park, and Woodland Hills Nature Park, but there is so much more to experience in this community than first meets the eye. Farmington Hills is also full of plenty of unique opportunities such as cooking classes at Experience Cooking and spa services at International Therapeutic Massage. Numerous community programs seasonal events help keep Farmington Hills a close-knit community, but it is each resident's friendly attitude and commitment to greatness that makes it a truly one-of-a-kind place. If you live in Farmington Hills and are looking for reliable and affordable transportation for a large group of kids, seniors, relatives, or friends; trust our experts at Rochester Limousine to set you up with an impressive party bus rental, today.
If you are in the Farmington Hills area and are looking for a party bus rental Farmington Hills MI, please contact us today by calling 248.289.6665 or by filling out the form below: