Party Bus Rental Cady MI
Are you looking for a party bus rental Cady MI?
Once upon a time, party bus rentals were only for the wealthy or for people celebrating super important occasions, like 21st birthday parties and bachelorette extravaganzas. However, this is no longer the case. In fact, at Rochester Limousine, we offer party bus rentals, perfect for any and every occasion! Whether you're looking to tailgate at the next Tiger's game or you need to shuffle all your relatives to a family reunion, you simply won't find better luxury transportation than our spacious party bus rentals at Rochester Limousine. Equipped with all the latest safety features to ensure you and your guests arrive safe and sound, as well as top-of-the-line entertainment systems to keep everyone amused, it isn't hard to see exactly why our incredible fleet of luxury party bus rentals was voted number one in Metro Detroit two whole years in a row. Our largest party bus rentals can even hold as many as 45 passengers to make sure no one ever gets left out, so don't wait much longer! Availability for our popular party bus rentals won't last long!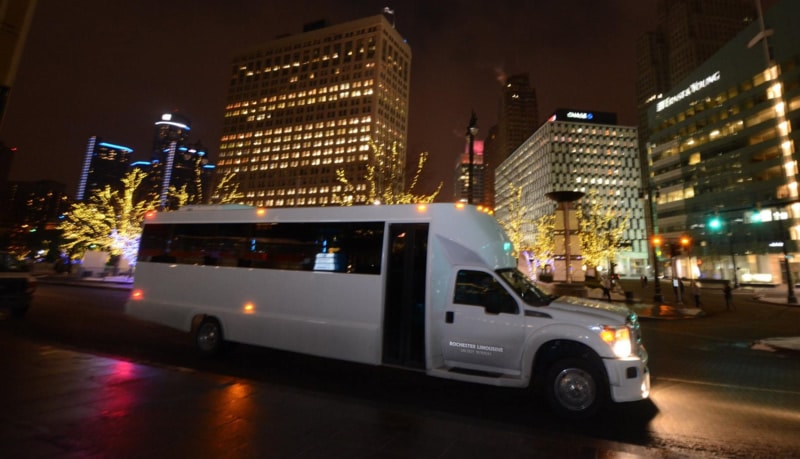 Party Bus Rental Cady MI
With more than 20 years of experience, Rochester Limousine is excited to help you enjoy "A Night To Remember" by offering you access to the most luxuriously affordable party bus rentals in Cady, MI. Part of Clinton Township in Macomb County, the small residential town of Cady resides between all the excitement in Sterling Heights to the west, and Lake St. Clair to the east. Of course, the community of Cady itself remains a more quiet area throughout the year. Surrounded by many parks, creeks, and streams around Clinton River, including Sterling Heights Family Park, Freedom Hill County Park, Dodge Park, Clinton River Park, and Frank H. Budd Park to name a few, residents of Cady are able to get out and explore the beauty of the area anytime they want. For more modern entertainment, however, there are plenty of museums and other attractions just outside of Cady in some of the adjacent neighborhoods. Fraser Hockey Land, the GM Heritage Center, and the Michigan Transit Museum, for instance, are just a few that are particularly close. In fact, overall, living in Cady is a great way to enjoy the more relaxed side of Michigan without missing out on all the great opportunities nearby. Just because Cady doesn't have a long list of thrilling offerings lined up for residents to take advantage of doesn't mean that it isn't a wonderful place to live. For all of those moments that residents of Cady want to get out and do something new and/or spectacular, our party bus rentals at Rochester Limousine are always here and ready for an adventure!
If you are in the Cady area and are looking for a party bus rental Cady MI, please contact us today by calling 248.289.6665 or by filling out the form below: