Limousine Service Washington Township MI
Are you looking for limousine service Washington Township MI?
As much as it might seem like we're just bragging, we know our limousine service at Rochester Limousine is the best. How do we know this? Well, in addition to our countless satisfied clients, our outstanding reviews and reputation, and the fact that we boast the newest and hottest fleet of luxury vehicles in the region, we've also officially been voted the "Best Limousine Service in Metro Detroit" twice. We specialize in maximizing the fun of any and every journey we're apart of, and never stop striving to ensure that our clients feel safe, comfortable, and thoroughly entertained throughout their expeditions with us no matter where they're going. And the best part is, our limousine services is as versatile as it is reliable. It doesn't matter if you have a large wedding party you need to get to your venue on time, or you're just getting a few friends together for a concert, our limousine service is guaranteed to offer everything you need to have an unforgettable night and then some. From our spacious Suburban Stretch limos, which are built to accommodate up to 20 people, to our two smaller yet equally impressive Chrysler 300 model limousines, which are ideal for groups of 9-12 people, you can feel confident our limousine service has the perfect luxury vehicle to meet your needs. So what do you say? Got an itch for adventure you're ready to scratch? Need to get out of Washington Township and explore something new? Elevate your experience by reserving our limousine service at Rochester Limousine today!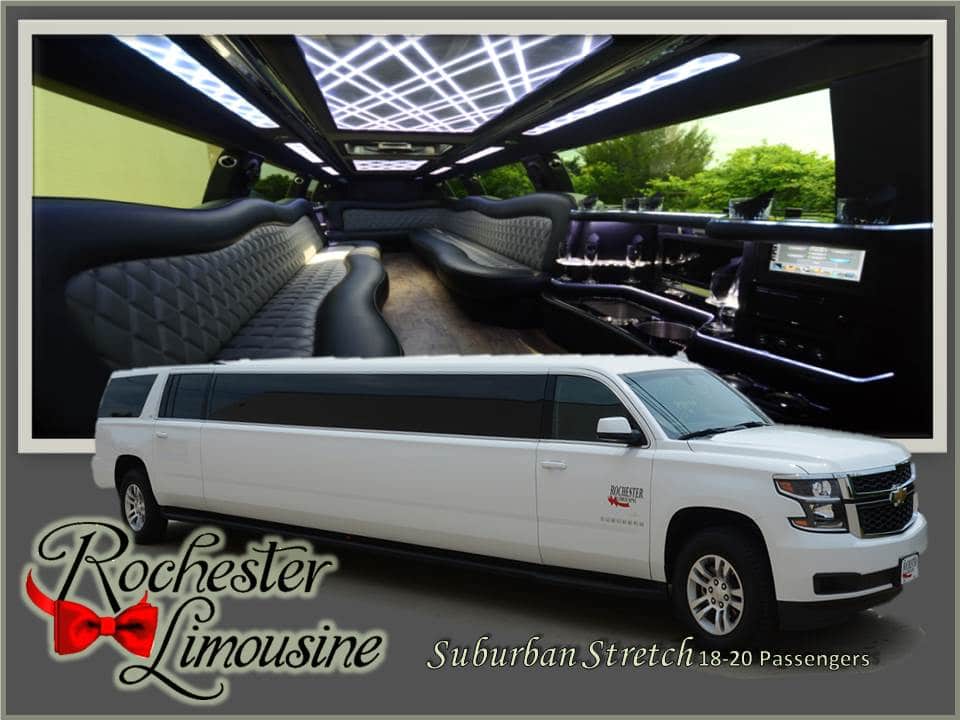 Limousine Service Washington Township MI
With more than 20 years of experience, Rochester Limousine is excited to help you enjoy "A Night To Remember" by offering you access to the most luxurious limousine service in Washington Township, MI. There may be three Washington Townships in Michigan, but we're certain none are as great as the Washington Township in Macomb County. Despite being so close to downtown Detroit, Washington Township is a rural paradise, wedged between the Wolcott Mill Historic Center and the Stony Creek Metropark. And that means, whether you enjoy daring activities, or relaxing excursions, Washington Township has all the outdoor recreation, wineries, cider mills, metroparks, and more its residents could ever need. However, when it comes to celebrating important milestones and attending fancy events, Washington Township's peaceful, suburban atmosphere is not necessarily the most exciting destination. Fortunately, though, it is in our pick-up zone – which means anytime you feel like escaping the mundane in Washington Township, we're always here for you. All you've got to do is call us up at Rochester Limousine, and reserve our limousine service today!
If you are in the Washington Township area and are looking for limousine service Washington Township MI, please contact us today by calling 248.289.6665 or by filling out the form below: