Limousine Service Utica MI
Are you looking for limousine service Utica MI?
Feeling fancy? Want to get out of the house and go somewhere, anywhere, in style for a change? How about you treat yourself to our breathtakingly extraordinary limousine service at Rochester Limousine! Whether you just want to feel like royalty and ride around for the night with your best friends, or you have an important occasion or event coming up and you want to impress, our limousine service is guaranteed to have everything you need and then some. From built-in flat screens and incredible entertainment systems, to luxury seating, onboard bars, and impeccable lighting displays to enhance any mood, we're more than confident our limousine service will far surpass your expectations. Best of all, our limousine service is perfect for any size group. If you only have 9-12 passengers riding along, either of our Chrysler 300 limos will be perfect for you. If you have a larger group, our Suburban Stretch's 20-seater cabin limo is going to have everything you're looking for. But don't just take our word for it. We know you'll fall in love with our reliable, safe, convenient, luxurious limousine service because ours just so happens to have been voted the "Best Limousine Service in Metro Detroit" two years in a row by customers just like you from all over the region! So, if you're ready to leave Utica and go on a grand voyage you'll never forget, hurry up and get in touch with us at Rochester Limousine today to reserve your vehicle before time runs out!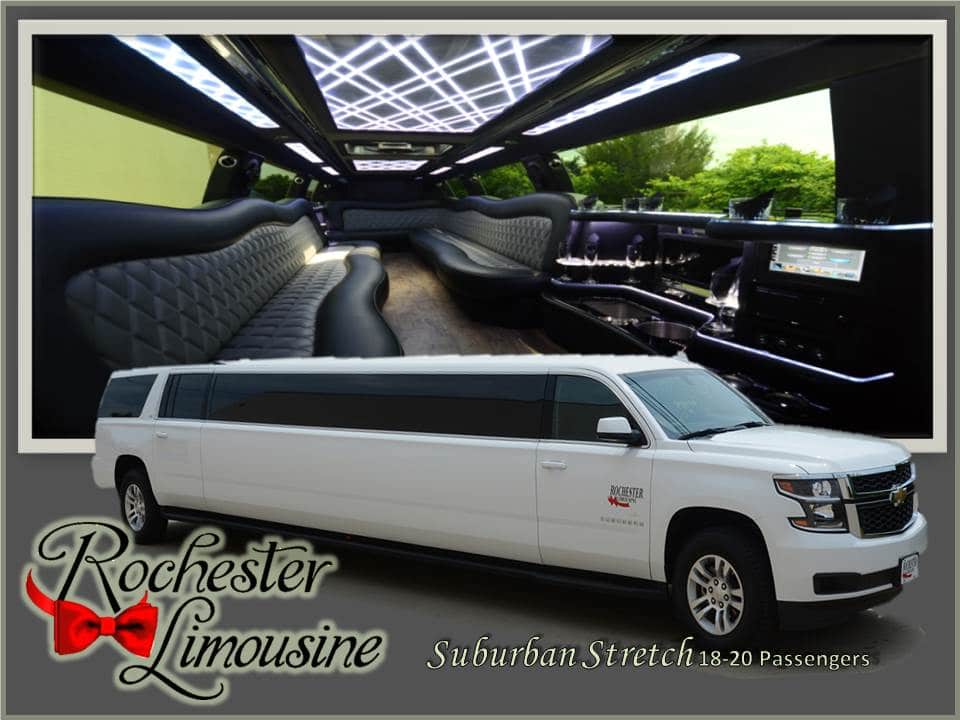 Limousine Service Utica MI
With more than 20 years of experience, Rochester Limousine is excited to help you enjoy "A Night To Remember" by offering you access to the most luxurious limousine services in Utica, MI. There's simply no arguing that Macomb County's city of Utica is a fabulous place to live. From Jimmy John's Field and River Bends Park, to all the local bars and pubs there are scattered around nearby, Utica is simply the perfect little suburban sanctuary for any family or working professional. When it comes to excitement, the most interesting thing Utica has to offer is its proximity to Lake St. Clair and downtown Detroit – and both of which still require residents of Utica to go for a drive. Of course, to us, that doesn't sound bad at all. In fact, we love chauffeuring clients around and showing them a great time in our elegant limousines. So, how about the next time you and your friends from Utica want to take a drive to some amazing destination, you go the extra mile and make your journey part of your adventure? Besides, we're certain our limousine service at Rochester Limousine offers vehicles that are better than anything else near Utica you have to choose from.
If you are in the Utica area and are looking for limousine service Utica MI, please contact us today by calling 248.289.6665 or by filling out the form below: