Limousine Service Sterling Heights MI
Are you looking for limousine service Sterling Heights MI?
Sterling Heights is known to be one of the safest cities in Michigan, so it's safe to assume that residents of this incredible community expect the same exceptional standard and quality when it comes to their transportation as well. Luckily, we're pretty confident our limousine service at Rochester Limousine is more than up to par. Voted Metro Detroit's best limousine service two years in a row, our fleet is not only the newest and hottest in the city, but it also offers the greatest assortment of amenities, the most reliability, and the most versatility of any other. For example, our 20-seater Suburban Stretch limos are our most spacious limousine service vehicles, featuring built-in entertainment systems, luxury interior, onboard bar areas, and more. Our 9 and 12-seater Chrysler 300 limos, however, are equally incredible – offering many of the same fantastic amenities except with a much cozier cabin! Best of all, our limousine service is designed to enhance the outcome of literally any type of occasion, event, or outing you may have in mind. To be fair though, there's more to love about our exclusive limousine service than just our incredible fleet of luxury vehicles and the freedom it affords our clients. After all, our limousine service specialists at Rochester Limousine have been helping people throughout and beyond Sterling Heights enjoy incredible adventures for more than 20 years, so we definitely know what we're talking about.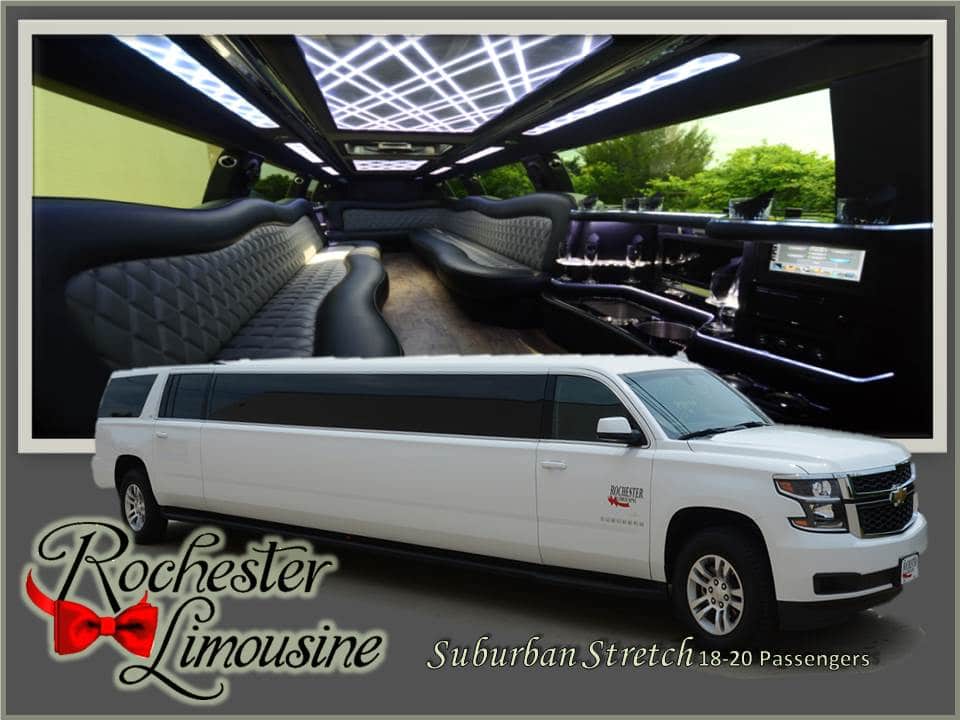 Limousine Service Sterling Heights MI
Rochester Limousine is excited to help you enjoy "A Night To Remember" by offering you access to the most luxurious limousine service anywhere in or beyond Sterling Heights, MI. With close to 130,000 residents, the city of Sterling Heights in Macomb County comes in at one of the largest communities not only in the area, but also in the entire state. Sterling Heights offers more than 37 square miles of parks, museums, landmarks, and beautifully safe neighborhoods for its people to thrive. With so many things to see and do both within Sterling Heights and in the community's immediate vicinity, including attractions and entertainment in the sensational city of Detroit just south of town, it's important to know when the right time is to reserve a limousine service. If you ask us, we'll tell you always! After all, why not make your first date with someone in Sterling Heights extra special? Why shouldn't you impress the heck out of your buddies by picking them up on game day in a killer limousine? Why not make every moment you possibly can in the magical city of Sterling Heights as incredible as it can be? The answer is, there is no reason not to. So go ahead and reserve your spot with us at Rochester Limousine today – we can't wait to hear from you!
If you are in the Sterling Heights area and are looking for limousine service Sterling Heights MI, please contact us today by calling 248.289.6665 or by filling out the form below: