Limousine Service Rochester MI
Are you looking for limousine service Rochester MI?
Rochester Limousine is known for our incredible limousine service. It's why we were voted number one in Metro Detroit multiple times, as well as why we hold such an extraordinary reputation regarding our customer satisfaction. Our limousine service professionals are always dedicated 100% to ensuring you and your guests enjoy the best possible experience with us, no matter where you're going, or what type of special event has you headed outside Rochester. Best of all, our limousine service offers you a choice between several of our choice luxury vehicles. Our Chrysler 300 models, for example, are perfect for intimate gatherings of less than 12 people while our Suburban Stretch limos are ideal for larger groups of up to 20 – all of which include countless onboard amenities for the ultimate on the road experience. Whether you're celebrating a special birthday, getting married, have a child going to prom, or are otherwise trying to make your night out with your loved ones more amazing than you ever thought it could be, our limousine service at Rochester Limousine is just what you need. Put the fate of your next adventure in the capable hands of our remarkable limousine service professionals at Rochester Limousine – we promise you won't regret your decision!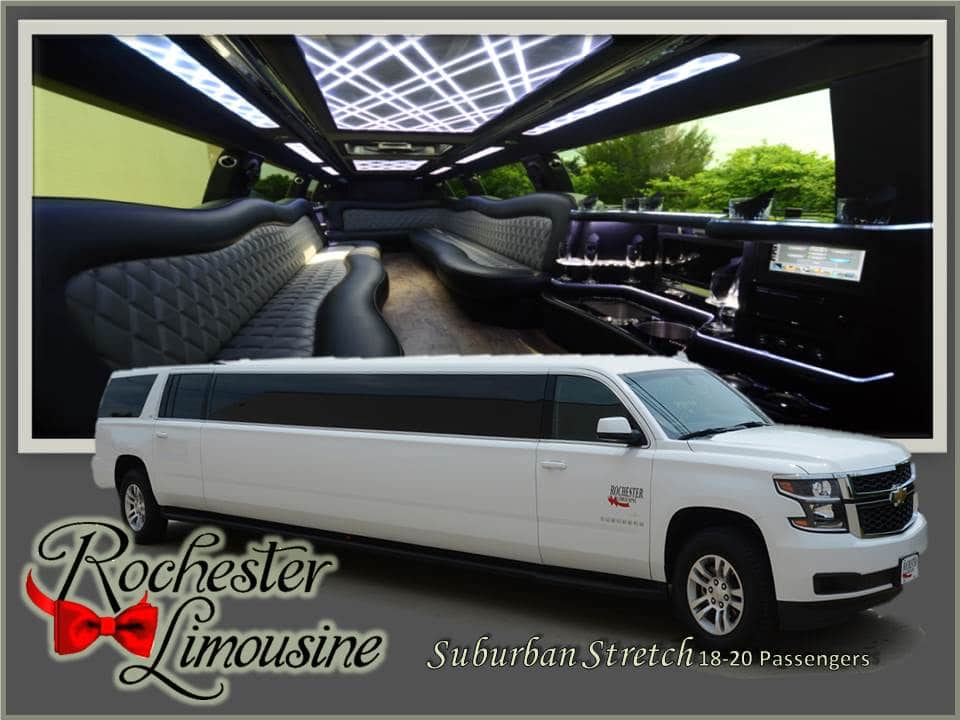 Limousine Service Rochester MI
Rochester Limousine is excited to help you enjoy "A Night To Remember" by offering you access to the most luxurious limousine service anywhere in or beyond Rochester, MI. Just north of Rochester Hills, near the Stony Creek Metropark in Oakland County, more than 12,000 lucky people live in the city of Rochester, and with numerous annual events, parks, landmarks, and more to enjoy, you know it's a great place to live. Of course, no matter how great Rochester may be, every once in a while you have to get out and enjoy something new and different – like taking a ride in one of our one-of-a-kind luxury vehicles to some incredible far off destination in Metro Detroit! From concert venues to sporting stadiums, our limousine service can take you from Rochester to just about anywhere you and your guests want to go. So go ahead and let us help you put Rochester in your rear view mirror. With our limousine service at Rochester Limousine, all you need is the desire to have a great time. And don't worry; we'll make sure you and all your loved ones get back to Rochester at the end of the night, safe and sound!
If you are in the Rochester area and are looking for limousine service Rochester MI, please contact us today by calling 248.289.6665 or by filling out the form below: