Limousine Service Pleasant Ridge MI
Are you looking for limousine service Pleasant Ridge MI?
For all the times you need to step back from your stressful real life and just treat yourself to a good time, our limousine service at Rochester Limousine will be there. For every birthday party, wedding, anniversary, prom, and other special life cycle moment you and your loved ones are celebrating with one another, our limousine service will be there. For every special date, corporate event, concert, sporting event, and other once-in-a-lifetime opportunity you have to impress someone, our limousine service will be there. After all, it doesn't matter where you're going, what it is you're commemorating, or who or how many you have tagging along, our limousine service will always be there for you. In fact, all you've got to do is let us know what type of adventure you're embarking on, how much space you'll need, and what it is you're most excited about, and our exceptional transportation professionals will help you choose the perfect vehicle to best suit your needs and exceed your hopes. After all, our fleet is the newest and hottest around, and we were voted the number one "Best Limousine Service in Metro Detroit" twice in a row! We have large, extravagant Suburban Stretch limos to accommodate groups of up to 20 people, and smaller, classier Chrysler 300 limo models for accommodating 9-12 passengers for more intimate occasions – all of which feature the latest and greatest entertainment systems, onboard bars, and so much more. So, if you're ready to ensure you and your guests' journey outside Pleasant Ridge is one none of you will ever forget, reach out to our amazing transportation professionals at Rochester Limousine today and reserve our limousine service before you miss your chance!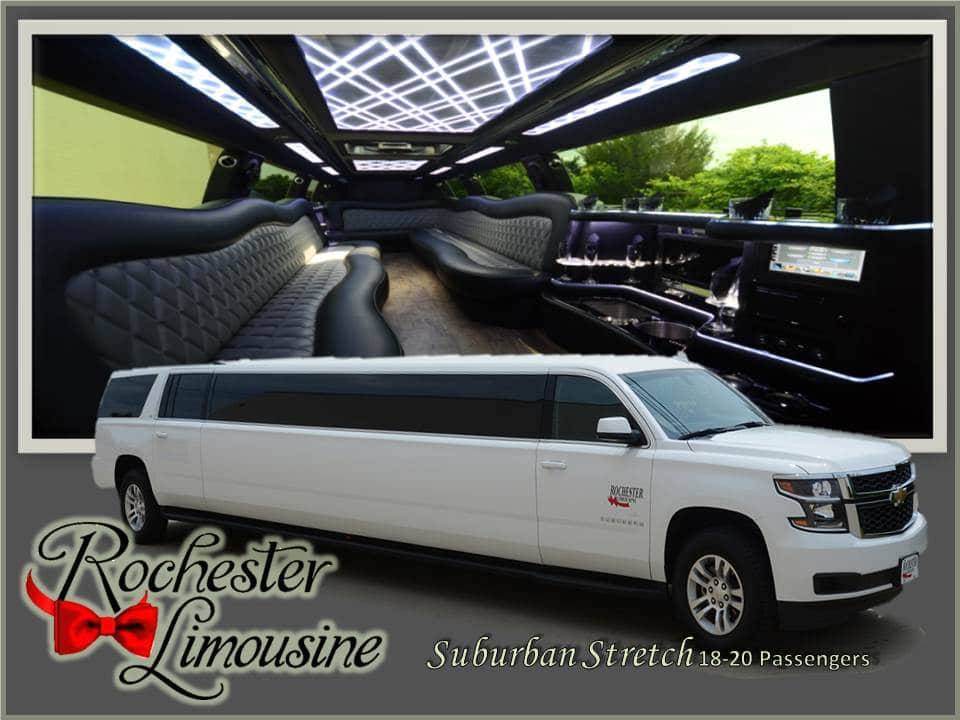 Limousine Service Pleasant Ridge MI
With more than 20 years of experience, Rochester Limousine is excited to help you enjoy "A Night To Remember" by offering you access to the most luxurious limousine services in Pleasant Ridge, MI. Pleasant Ridge may be small, and only of Oakland County's less impressive neighborhoods, but it is still one of the most charming, "pleasant" communities in the area. Its homes are as adorable as they are luxurious, which is quiet the step up from the small subdivision of Mayday farm that Pleasant Ridge once started out as. Plus, it has just enough local landmarks to make it a true staple of the area. Of course, the best part about living in Pleasant Ridge is the nearby amenities and attractions. From the Detroit Zoo, to the remarkable Rust Belt Market, to theaters and eateries galore, Pleasant Ridge has access to it all! However, getting from Pleasant Ridge to all these incredible destinations requires a bit of travel, which for most people can really spoil the fun. After all, being trapped in traffic with nothing to do is no fun for anyone. That's why, the next time you leave Pleasant Ridge you should take advantage of our limousine service at Rochester Limousine. We'll not only ensure you arrive safe and sound where you need to be, we'll make sure you and anyone else you have tagging along will never face a dull moment along the way!
If you are in the Pleasant Ridge area and are looking for limousine service Pleasant Ridge MI, please contact us today by calling 248.289.6665 or by filling out the form below: