Limousine Service Bloomfield MI
Are you looking for limousine service Bloomfield MI?
If your child is finally taking that leap into adulthood and attending their first prom, our limousine services at Rochester Limousine, are just what you need. Our one-of-a-kind limousine services are designed to expertly balance superior comfort and entertainment, with outstanding safety and reliability – keeping you and your loved ones comprehensively satisfied no matter who's onboard. Whether you're looking for the largest possible limousine to make sure your child has enough room to bring all their friends, or you want to keep things intimate to ensure the partying doesn't get too out of hand, our limousine services are guaranteed to have a luxury vehicle perfect for your needs. From our massive Suburban Stretch limo, ideal for up to 20 passengers, to our smaller yet equally stunning Chrysler 300 models, capable of accommodating up to 12 passengers, each and every one of our luxury vehicles are so insanely exceptional that your child will be ecstatic just at the thought of you taking advantage of our limousine services for their special night! And don't worry about keeping them entertained; our exclusive luxury vehicles each come with a plethora of unique amenities, like built-in televisions, spacious seating, sound systems, special lighting, and so much more. So do yourself, and your precious little angel, a favor and choose to put your trust in our praiseworthy limousine services at Rochester Limousine. After all, we're pretty confident you won't find better limousine services than ours, in Bloomfield, or anywhere else!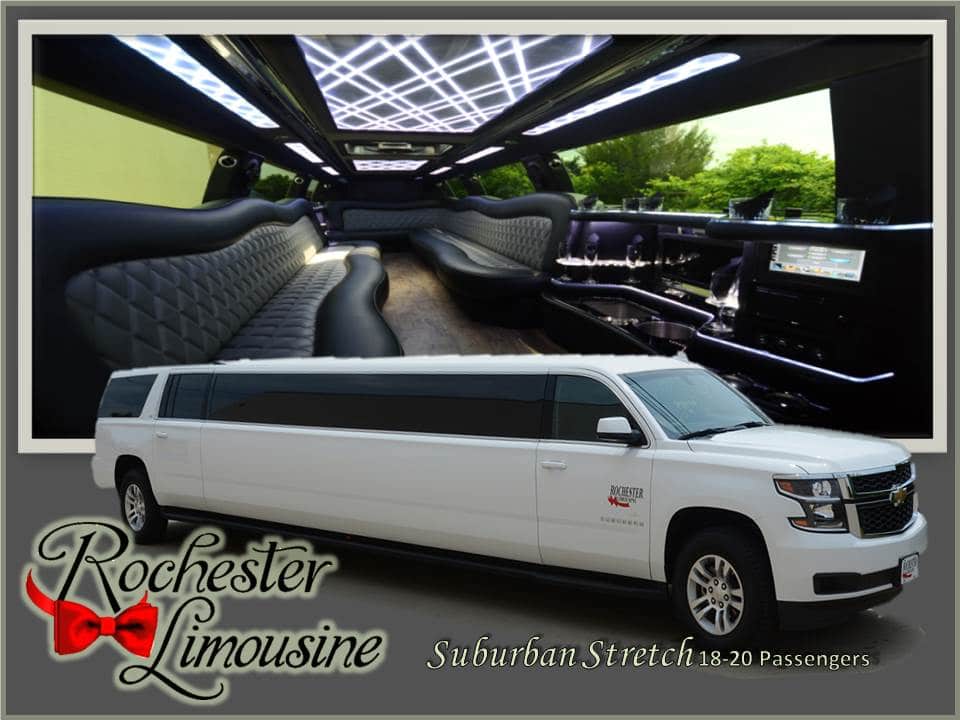 Limousine Service Bloomfield MI
With more than 20 years of experience, Rochester Limousine is excited to help you enjoy "A Night To Remember" by offering you access to the most luxurious limousine services in Bloomfield, MI. Hidden within Oakland County's Bloomfield Township, the quaint little village of Bloomfield is a small, yet stunning, community. Although it is surrounded by numerous world-class attractions, including the many Cranbrook facilities to the north in Bloomfield Hills, the village itself is actually quite exclusive, offering only one well-known landmark within its limits – the Affleck House. To the residents of this adorable village, Bloomfield is the perfect home. It rests on the border of the beautiful Oakland Hills Country Club, and offers several gorgeous lakes and parks in its vicinity; however, Bloomfield's peaceful isolation also means that if you want to find incredible entertainment or recreation you have to be willing to take a bit of a drive – but where's the fun in that? If you really want to get out of Bloomfield and do something special, don't drive yourself! Get fancy and treat yourself by taking advantage of our limousine services at Rochester Limousine!
If you are in the Bloomfield area and are looking for limousine service Bloomfield MI, please contact us today by calling 248.289.6665 or by filling out the form below: