Limousine Service Bloomfield Hills MI
Are you looking for limousine service Bloomfield Hills MI?
If you're looking for the perfect wedding day limousine service to make your big day in Bloomfield Hills as special as possible, you needn't look any further than our incredible fleet of luxury limousines at Rochester Limousine. Designed to inspire elegance and grace, our limousine services can help you, and your wedding party or guests, arrive at your venue safe, on time, and in style. Whether you need a larger limousine to hold up to 20 people at a time, or you'd prefer to opt for a fleet of smaller limousines to divide your wedding parties and keep the magical moments before the ceremony private, our limousine services are certain to offer you everything you could ever need. From our larger Suburban Stretch limo's large built-in televisions, onboard bars, classy wood floors, and spacious wrap around seating; to our unique Chrysler 300 models' uplifting lighting and upgraded sound systems, we're confident you won't find any limousine services in Metro Detroit better than ours. Of course, even if you're not getting married, our exclusive limousine services are still ideal for any special occasions or upscale events. So go ahead and give our experts at Rochester Limousine a call, and learn more about how you can take advantage of our unparalleled limousine services, today!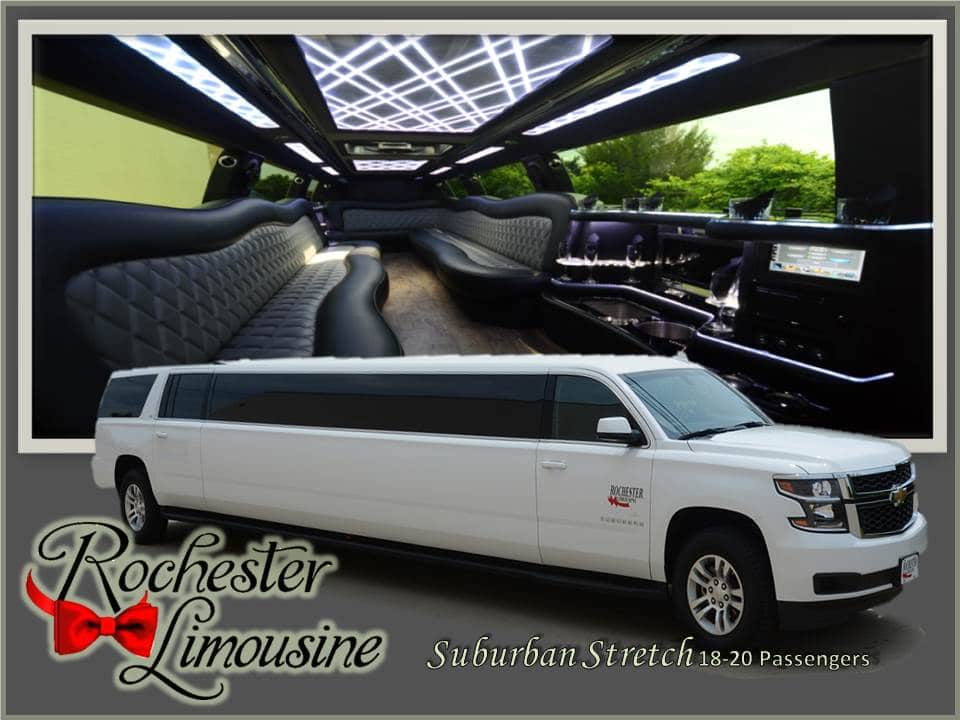 Limousine Service Bloomfield Hills MI
With more than 20 years of experience, Rochester Limousine is excited to help you enjoy "A Night To Remember" by offering you access to the most luxurious limousine services in Bloomfield Hills, MI. Just over 20 miles from downtown Detroit, close to 4,000 people call Oakland County's city of Bloomfield Hills home – and what a home it is. Bursting with historic significance and relentless charm, Bloomfield Hills offers countless unique attractions and educational domains throughout its treasured community, including numerous upscale art galleries, theaters, museums, gardens, golf courses, historical sites, and more. In fact, Bloomfield Hills is such a remarkable area it's even been home to countless famed engineers, designers, sculptors, architects, businessmen, musicians, entertainers, politicians, athletes, and other renowned professionals. However, living in a city as full of life as Bloomfield Hills, where everything you could ever want is right down the road, it's easy to forget how to make even the littlest adventures with those you love special. Thankfully, with help from our transportation professionals at Rochester Limousine, making the most of any day trip or special occasion in Bloomfield Hills is as easy as picking up the phone and letting us know where to pick you up. Choose luxury limousine services as elegant as Bloomfield Hills is exceptional – choose Rochester Limousine.
If you are in the Bloomfield Hills area and are looking for limousine service Bloomfield Hills MI, please contact us today by calling 248.289.6665 or by filling out the form below: