Limousine Service Birmingham MI
Are you looking for limousine service Birmingham MI?
Whether you've been in a limousine before or not, you have not experienced true luxury transportation until you've take advantage of our outstanding limousine services at Rochester Limousine. From our most spacious Suburban Stretch limos, capable of seating up to 20 passengers comfortably, to our two unique Chrysler 300 models, perfect for smaller groups of 9-12 people, our limousine services are simply second to none. Of course, choosing which of our incredible vehicles you need goes beyond determining how much space you require. For instance, if you are looking for limousine services that offer multiple large televisions, private onboard bars, sophisticated wood flooring, comfortable wrap around seating, and more, you'll definitely want our largest Suburban Stretch limo. If, however, you need limousine services that offer a much more festive atmosphere, complete with strobe lights, lasers, and optic lighting, our 12-seater Chrysler is likely more your speed. Nonetheless, no matter where you're going or what you need onboard, so long as you choose our limousine services at Rochester Limousine you'll always have a fantastic journey! Choose limousine services that are guaranteed to impress your loved ones – choose Rochester Limousine.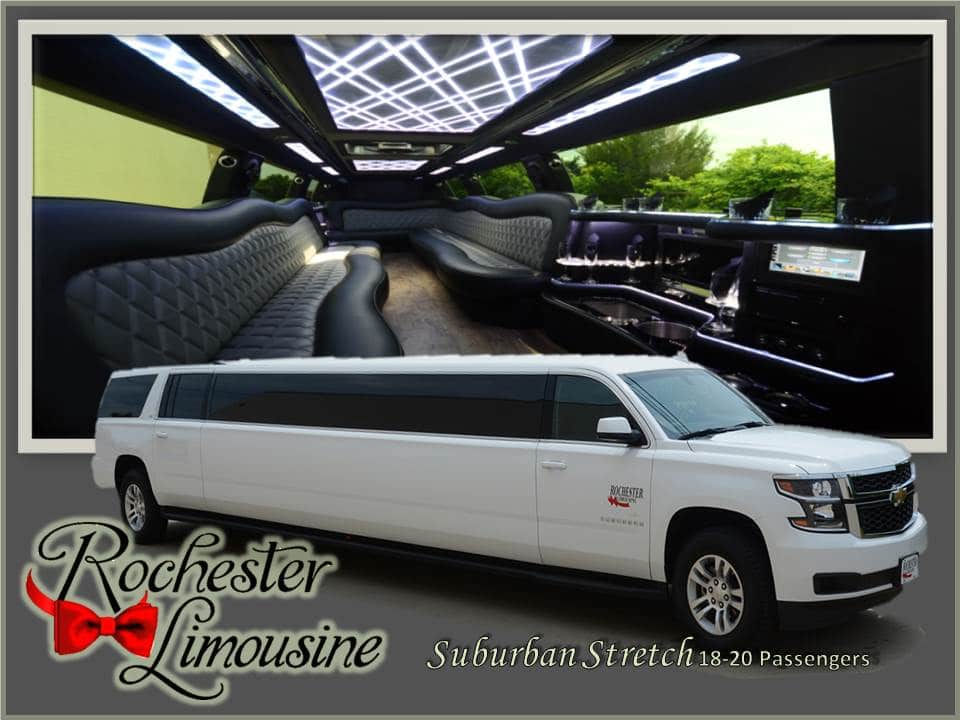 Limousine Service Birmingham MI
With more than 20 years of experience, Rochester Limousine is excited to help you enjoy "A Night To Remember" by offering you access to the most luxurious limousine services in Birmingham, MI. Birmingham is one of Oakland County's most "walkable" communities, as stated in their city motto, boasting more than 20 unique parks, as well as tons of art shows, community music concerts, and other local events throughout the year. Birmingham also provides its more than 20,000 residents with access to exceptionally diverse educational opportunities as well, including offering classes for students of the French and Japanese Schools of Detroit. Of course, aside from a few upscale movie theaters, golf courses, and yoga studios, like the Birmingham Theater, the Springdale Golf Course, and Yoga Shelter Birmingham, there aren't too many other places in the vicinity to investigate. That's why, it's important you have an adventurous spirit – to help get you out of Birmingham so you can discover something new and incredible. For instance, if you're willing to travel a little bit, other vibrant nearby communities, like Royal Oak, Bloomfield Hills, and Detroit, are just a short trip away, and full of all kinds of attractions worth exploring. From museums and shopping destinations, to concert halls and sports stadiums, there's simply too much to take advantage of throughout Metro Detroit to stay in Birmingham forever. If you're a resident of Birmingham, say goodbye to boring weekends and drinks at The Hamilton Room, and hello to our one-of-a-kind limousine services at Rochester Limousine. We'll take you anywhere you want to go!
If you are in the Birmingham area and are looking for limousine service Birmingham MI, please contact us today by calling 248.289.6665 or by filling out the form below: