Tiger's Opening Day Party Bus Rental
Are you looking for a Tiger's Opening Day party bus rental?
We already know that you most likely have plans to attend and enjoy the Tiger's Opening Day events, but yet the question still remains: how do you plan to get there? At Rochester Limousine, we encourage you to take advantage of one of our incredible party bus rentals because we already know that we're the best, but don't just take our word for it! Rated number one in Metro Detroit with the newest, largest, safest, and most comfortable fleet of luxury party bus rentals in the industry, everyone knows that Rochester Limousine's party bus rentals are the way to go when you're celebrating any kind of event or special occasion. From flat screen TVs and sound systems, to festive lighting and bar service, our party bus rentals have got all the amenities you're looking for to guarantee a great time no matter who is tagging along. Whether you're taking a small group of friends, or sharing the Tiger's Opening Day fun with everyone you know, Rochester Limousine has a variety of ideally-sized Tiger's Opening Day available to ensure that you get exactly what you need.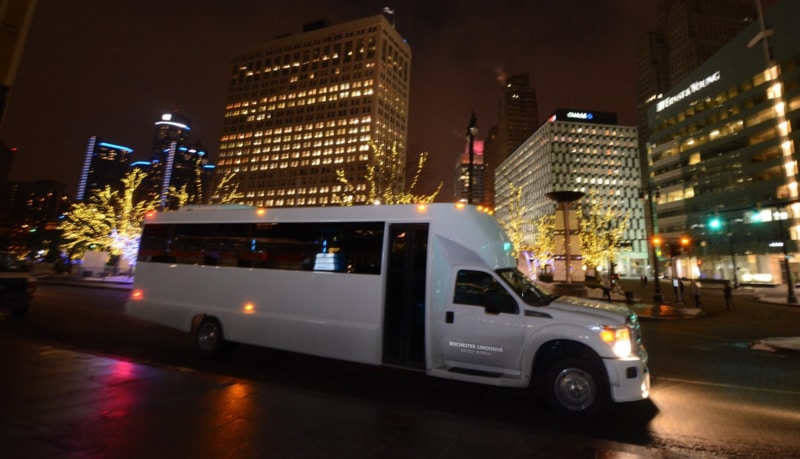 Tiger's Opening Day Party Bus Rental
With more than 20 years of experience, Rochester Limousine is excited to help you enjoy "A Night To Remember" by offering you access to luxuriously affordable party bus rentals capable of getting you and all your guests to Comerica Park in time for the Tiger's Opening Day events. Every year for baseball fans, the love of the game is reborn and mistakes of seasons past are washed away to make room for a new season of hope – and this year is no different. As your favorite team, the Tigers, face off against their rivals on this year's Tiger's Opening Day, make sure you're there to cheer them on and give them the support they deserve. This year's Tiger's Opening Day is guaranteed to be absolutely incredible so you definitely won't want to miss out. To enjoy all the Tiger's Opening Day events in style and tailgate like the true Tigers fan you are, get your hands on a party bus rental before it's too late. Our party bus rentals, at Rochester Limousine, are perfect for you and perfect for any occasion, especially Tiger's Opening Day, so call now and speak with one of our remarkable transportation experts to learn how we can help you make this year's Tiger's Opening Day exponentially more incredible with an impressive party bus rental chosen just for you. Go Tigers!
If you are in the Metro Detroit area and are looking for a Tiger's Opening Day party bus rental, please contact us today by calling 248.289.6665 or by filling out the form below: