Party Bus Rental Washington Township MI
Are you looking for a party bus rental Washington Township MI?
Whether you want to get wild, or simply enjoy incredibly comfortable accommodations, Rochester Limousine has a party bus rental that is perfectly equipped to take you and all your guests exactly where you need to be. From road safety to on-board entertainment, no other party bus rental offers more for clients than the exceptional party bus rentals at Rochester Limousine. With top-of-the-line amenities, like full service bars, flat screens, sound systems, and more, available in all our party bus rentals, you can rest easy knowing that you made the right choice in choosing Rochester Limousine to host your transportation. With enough space to hold as many as 45 people in our largest party bus rental, you can enjoy the benefits of renting only one vehicle to get everyone where they need to be instead of carpooling and worrying about parking wherever you end up. There are countless reasons why you should trust Rochester Limousine when it comes to providing luxury transportation for your special moments, the excellence of our party bus rentals are just one.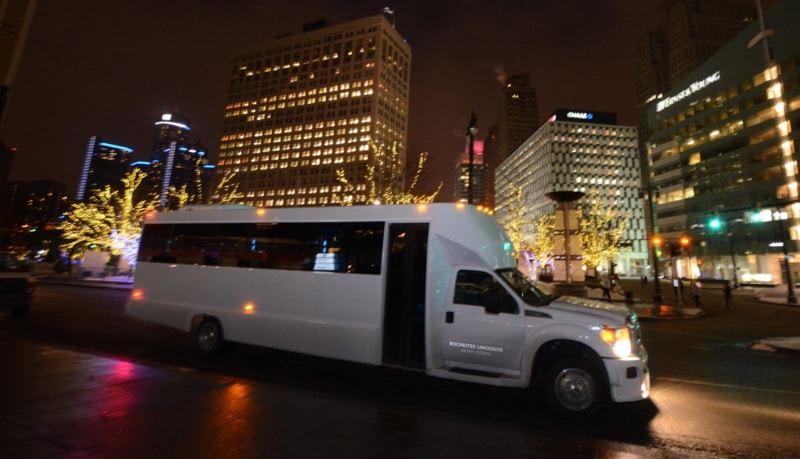 Party Bus Rental Washington Township MI
With more than 20 years of experience, Rochester Limousine is excited to help you enjoy "A Night To Remember," by offering you access to the most luxuriously affordable party bus rentals in Washington Township, MI. Washington Township is a small collective of communities in Macomb County, and an especially valued place for the more than 25,000 residents who live there. Boasting just over 35 square miles, Washington Township is comprised of three unincorporated communities and a small village. Though Clifton Mills, Mount Vernon, Romeo, and Washington each have their own unique styles and opportunities to offer, it is their commitment to the good of the entire area that makes Washington Township such a wonderful place to live, work, and play. From parks, golf courses, and hiking trails to lakes, orchards, farms, and bustling shopping centers, Washington Township has something for everyone to enjoy no matter what time of year it is. From sipping wine at the Westview Orchards, to sipping cider at the Verellen Orchards & Cider Mill, Washington Township offers an abundance of special things to do for families and singles alike. Bottom line is, you cannot deny there is something truly special about Washington Township. However, if you are looking for a way to get out and explore beyond Washington Township, Rochester Limousine can help. Choose Rochester Limousine today to learn more about how one of our party bus rentals can give a whole new meaning to the phrase "going out."
If you are in the Washington Township area and are looking for a party bus rental Washington Township MI, please contact us today by calling 248.289.6665 or by filling out the form below: