Party Bus Rental Southfield MI
Are you looking for a party bus rental Southfield MI?
When it comes to reserving a party bus rental for a birthday, anniversary, bachelor/bachelorette party, or other special occasion in your life, no one else upholds your interests better than the professionals at Rochester Limousine. If you're looking for comfort, road safety, entertainment, and a truly one-of-a-kind experience out of your party bus rental then you have to put your faith in Rochester Limousine. With pro-quality sound systems, large flat screens, available bars for of-age passengers, and more, our party bus rentals can effectively impress and entertain you and up to 44 lucky guests (for a total of 45 passengers) as you all make your way to your incredible destination. Don't let another major life event pass you by without giving the party bus rentals at Rochester Limousine a try. Whether you're celebrating a special moment in your own life or browsing for a friend, you can't go wrong with a party bus rental from Rochester Limousine.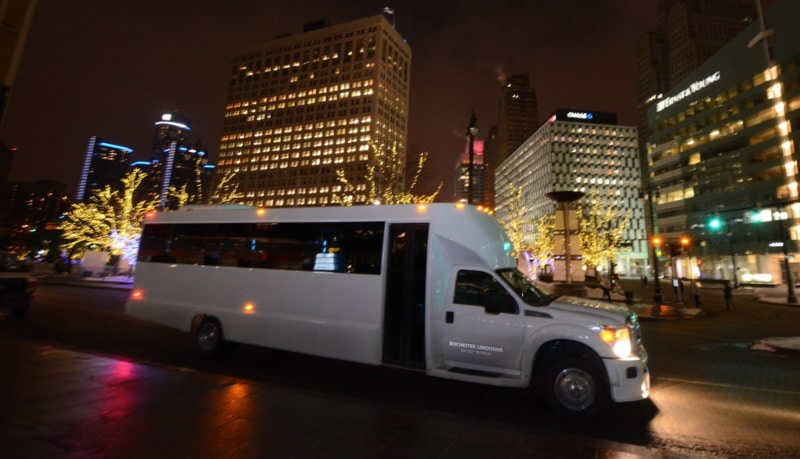 Party Bus Rental Southfield MI
With more than 20 years of experience, Rochester Limousine is excited to help you enjoy "A Night To Remember" by offering you access to the most luxuriously affordable party bus rentals in Southfield, MI. Southfield is a multicultural paradise right inside of Oakland County. With more than 70,000 incredibly diverse residents living in Southfield, the community boasts an abundance of outstanding Middle Eastern, African-American, Jewish, Italian, and Asian cuisine, unlike anything you will find anywhere else. For never-ending entertainment, the Southfield Parks and Recreation Department manages 775 acres of beautiful open land, nature preserves, parks, and 33 historic properties throughout the city. Sports, like tennis, soccer, sand volleyball, and more can be enjoyed nearly anywhere across the city of Southfield, as can picnics and other activities. From spas, theaters, and art galleries to golf courses and even cabarets, Southfield always has something amazing happening nearby. Whether you're an adventurous spirit or just looking for a charmingly affordable town to settle down in, you can't do much better than Southfield. Similarly, we want to encourage adventurous spirits and relaxed travelers alike to trust the luxury party bus rental professionals at Rochester Limousine when it comes to choosing the right party bus rentals. Only Rochester Limousine can help you elevate your evening with an affordable party bus rental specially chosen to meet your unique needs. Reach out to Rochester Limousine today to finally find a transporation expert willing to really listen to you and help you get exactly what it is that you're looking for.
If you are in the Southfield area and are looking for a party bus rental Southfield MI, please contact us today by calling 248.289.6665 or by filling out the form below: