Party Bus Rental Oxford MI
Are you looking for a party bus rental Oxford MI?
Our fleet of party bus rentals, and other luxury transportation at Rochester Limousine is the newest and hottest in all of Metro Detroit, meaning there are no better party bus rentals to meet your needs than ours! Whether you're looking for exceptional comfort and spacious seating for a large group or state-of-the-art entertainment amenities and outstanding safety and reliability, our party bus rentals will always come out on top. In fact, our party bus rentals are perfect for any occasions, big or small, including weddings, birthdays, concerts, sporting events, prom, and more. Plus, with seating available for as many as 45 people on our largest party bus rentals, you never have to worry about everyone arriving to the same event at different times. Our party bus rentals, at Rochester Limousine, make traveling to and from your favorite destinations easier and way more fun. To get your hands on a one-of-a-kind luxury vehicle for your next major event, trust the professionals who were voted the best in Metro Detroit twice in a row for their sheer excellence – trust Rochester Limousine.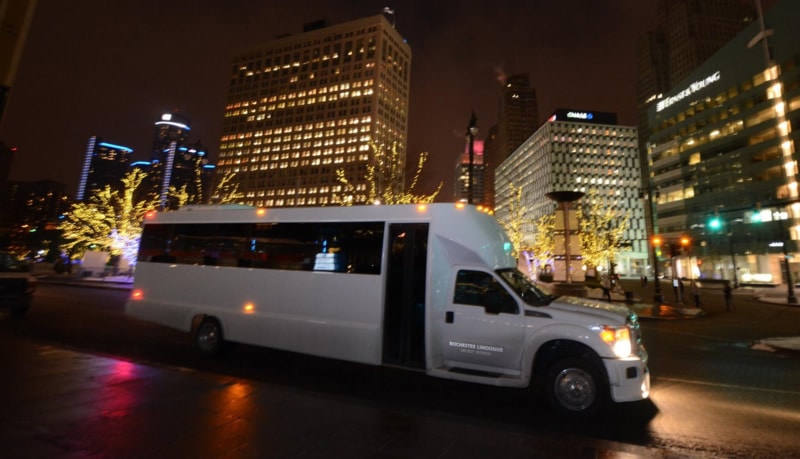 Party Bus Rental Oxford MI
With more than 20 years of experience, Rochester Limousine is excited to help you enjoy "A Night To Remember" by offering you access to the most luxuriously affordable party bus rentals in Oxford, MI. Located in Oxford Charter Township, in Oakland County, the small aptly named village of Oxford remains the home of more than 3,000 residents, a few great pubs, and a ton of diverse entertainment. Only 40 miles from Detroit, Oxford is the self-proclaimed sister city of Oxford, England, yet it maintains a unique atmosphere all its own filled with all kinds of attractions and recreational areas to suit any interest. For instance, Seymour Lake Township Park, Orion Marine Pontoon Rentals and Historical Boat Tours, and Sky Adventures are three thrilling locations where Oxford residents can explore the great outdoors by air, land, and water. However, the 24th Street Sports Tavern, Legacy Centre, and Urban Air are designed for rainy days and those who prefer to stay inside. Like its European sibling, Oxford is a vibrant community where people from all over come to experience new things. Of course, if you live in Oxford and want to go out and experience new things, we recommend you start by experiencing the joys of traveling in style with a party bus rental from Rochester Limousine. You won't find better luxury transportation anywhere else!
If you are in the Oxford area and are looking for a party bus rental Oxford MI, please contact us today by calling 248.289.6665 or by filling out the form below: