Party Bus Rental New Haven MI
Are you looking for a party bus rental New Haven MI?
Whether you're looking to celebrate an intimate birthday with just your immediate family or a bachelor/bachelorette party with as many as 44 guests (for a total of 45 passengers), you need to accommodate, Rochester Limousine has your back with impressive party bus rentals your guests won't believe. Raise a toast to your special occasion thanks to our full service bars in each party bus rental and relax knowing that no matter where you need to go, you will both arrive and depart safe and sound. Pro sound/lighting systems and hardwood dance floors can get your body amped for any party or keep the party going long into the night if you want, while the large flat screens are perfect for watching a little TV and winding down on the ride home. No matter how you want to spend your time on your way to your chosen destination, our party bus rentals at Rochester Limousine are fully equipped with everything you might need to ensure optimal comfort and overall satisfaction.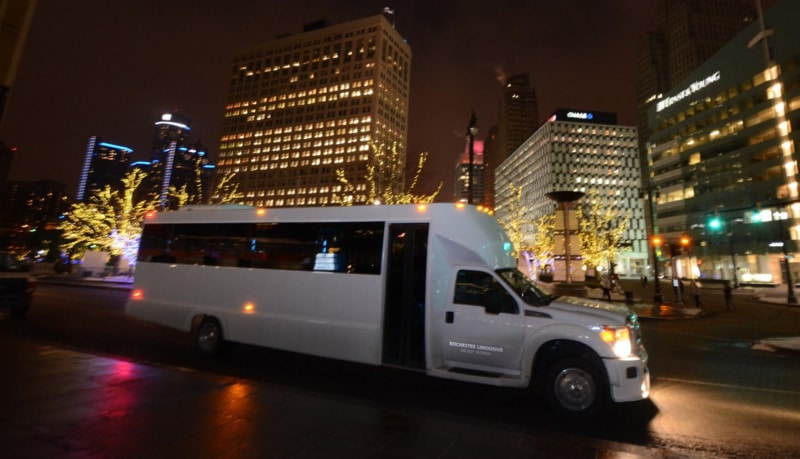 Party Bus Rental New Haven MI
With more than 20 years of experience, Rochester Limousine is excited to help you enjoy "A Night To Remember" by offering you access to the most luxuriously affordable party bus rentals in New Haven, MI. Not to be confused with the similarly named township, the Macomb County village of New Haven is actually a party of Lenox Township and houses just under 5,000 residents off the coast of Lake St. Clair. Local hot spots in New Haven include Coyote's Chill & Grill, where residents enjoy a number of tasty cocktails and menu items, and the Oakridge Golf Club – Marsh Oaks, where residents and tourists can participate in a friendly game of golf out on the green. No matter where your interests lie, the village of New Haven is proud to always have options available for all. Whether you're anxious to spend a day out over by the coast or deep in the heart of Detroit, New Haven is a rustically charming community that offers ideal distance to all the best entertainment and recreation in southeastern Michigan. You won't find another little town quite as extraordinary as New Haven. Similarly, at Rochester Limousine, you won't find any other party bus rentals as extraordinary as ours. From quick trips to get you to your favorite show to late nights partying with your friends, no other transportation company has got your back like Rochester Limousine. Reach out to our experts to learn more about our party bus rentals today.
If you are in the New Haven MI area and are looking for a party bus rental New Haven MI, please contact us today by calling 248.289.6665 or by filling out the form below: