Party Bus Rental Mount Clemens MI
Are you looking for a party bus rental Mount Clemens MI?
Mount Clemens may be known for it's luxury mineral baths, but when it comes to luxury party bus rentals, no other company can touch Rochester Limousine. Rochester Limousine offers only the best, safest, and most reliable party bus rentals in the state. It's never been more affordable to make your evening unforgettable, whether you are keeping it small or hoping to hang out with up to 44 of your friends (for a total of 45 passengers). With flat screens, sound systems, bars, and more included in the outrageously inexpensive price, Rochester Limousine is making party bus rentals more accessible and entertaining for everyone than ever before. Whether you are celebrating a birthday, anniversary, upcoming nuptials, or just looking to spice up your average date night, let Rochester Limousine help you make the most of your time out on the town with a party bus rental picked out just for you. Not sure what you need? Not to worry! Our transportation experts at Rochester Limousine are more than qualified to help you figure out which of our party bus rentals are right for you.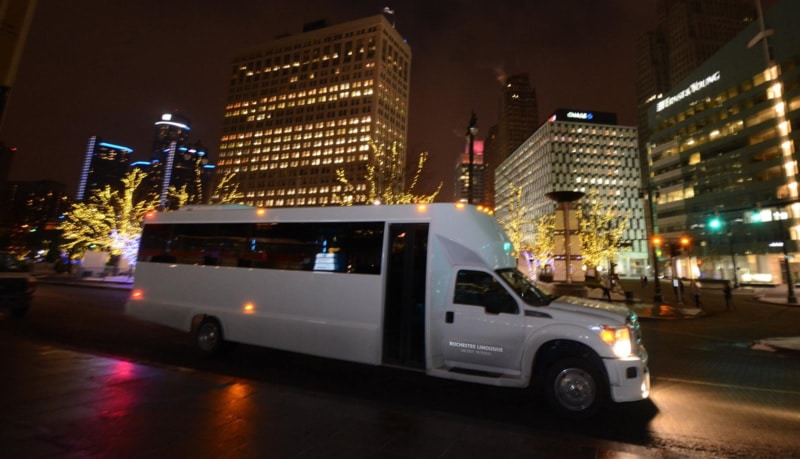 Party Bus Rental Mount Clemens MI
With more than 20 years of experience, Rochester Limousine is excited to help you enjoy "A Night To Remember" by offering you access to the most luxuriously affordable party bus rentals in Mount Clemens, MI. Macomb County's county seat is known for more than just offering remarkably affordable homes to its over 16,000 residents. In fact, Mount Clemens was cherished as Michigan's go-to destination for ultimate luxury and entertainment for more than a century. People would come from far and wide to experience the true bliss of Mount Clemens' famous mineral baths, including many renowned individuals and families such as Clark Gable, Babe Ruth, Mae West, and even the Vanderbilt family. Today, people can enjoy a taste of what made Mount Clemens so famous back in the day at modern establishments, like The Olympia Salon & Spa. Another historical must-see is The Anton Art Center, a communal gallery originally financed by none other than Andrew Carnegie himself in 1904 containing a plethora of unique pieces created by both domestic and international artists. For a more contemporary night out in Mount Clemens, the locally acclaimed hot-spot area, "The Clem," offers a number of bars and special establishments just waiting to excite you. To get to all these amazing places in style or to just take advantage of Michigan's most revered luxury transportation, reserve your party bus rental from Rochester Limousine today.
If you are in the Mount Clemens area and are looking for a party bus rental Mount Clemens MI, please contact us today by calling 248.289.6665 or by filling out the form below: