Party Bus Rental Milton MI
Are you looking for a party bus rental Milton MI?
Our remarkable party bus rentals at Rochester Limousine, really do have everything you need to have a good time no matter who you are. Trying to host an amazing party for your child's sweet sixteen? Our largest party bus rentals offer high quality entertainment systems, mood lighting, and even hardwood dance floors that can give your young adult the atmosphere they need to let loose with their friends while still prioritizing their safety. Looking for a great tailgating vehicle for you and your buddies to catch the game in? Our party bus rentals have private bars and giant flat screens that are sure to have you all feeling like you're in one of the private luxury boxes above the stadium! Best of all, we offer party bus rentals capable of transporting as many as 45 passengers at a time, so you never have to leave anyone behind. Our party bus rentals have already been recognized officially for their superior excellence, but now it's your turn to see for yourself just how truly amazing our luxury transportation at Rochester Limousine can be by reserve yours today!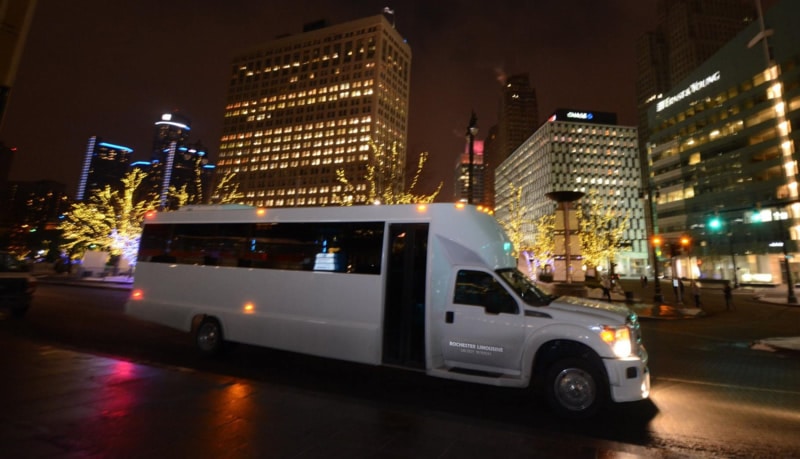 Party Bus Rental Milton MI
With more than 20 years of experience, Rochester Limousine is excited to help you enjoy "A Night To Remember" by offering you access to the most luxuriously affordable party bus rentals in Milton, MI. Just a little ways northwest of Anchor Bay Harbor in Macomb County's Chesterfield Township, the unincorporated little town of Milton resides. Milton is a wonderful place to live for those who love to be close to the water, while still maintaining proximity to Downtown Detroit. In fact, thanks to its location right next to 1-94, residents of Milton can hop on the interstate and head to the city anytime they want to take advantage of art, culture, history, and more. Of course, the best thing about living in Milton is that when you return, the pristine waterfront views, and your friendly neighbors are still there waiting for you. It really is the best of both worlds. However, if you're one traveling back and forth between Milton and wherever all the time, you're likely sick of the same old trip. That's why, if you're doing something really special and inviting a lot of your friends from Milton to tag along, you should check out our amazing party bus rentals at Rochester Limousine. Your life in Milton may have been incredible before, but with a party bus rental from Rochester Limousine you truly can have the time of your life – plus your friends will definitely thank you!
If you are in the Milton area and are looking for a party bus rental Milton MI, please contact us today by calling 248.289.6665 or by filling out the form below: