Party Bus Rental Madison Heights MI
Are you looking for a party bus rental Madison Heights MI?
Whether you're an active adventurer always out on the town taking in all that life has to offer or you like to save up your energy and release it only during the year's most special occasions, Rochester Limousine has a party bus rental that is perfect for you. Designed specifically for safety, comfort, and luxury, you and as many as 44 guests (for a total of 45 passengers) can not only make it where you need to go safe and sound, but also be entertained along the way. From professional sound and lighting systems to flat screen TV's and full-service bars, our party bus rentals at Rochester Limousine have everything you need to effectively make your special trip even more incredible. So the next time you have plans for a special birthday, romantic date night, tailgating party, or any other event, make sure you give Rochester Limousine the chance to show you why you should always choose a party bus rental to chauffeur you. Relax, grab a drink, and let the night take you where it takes you, only at Rochester Limousine.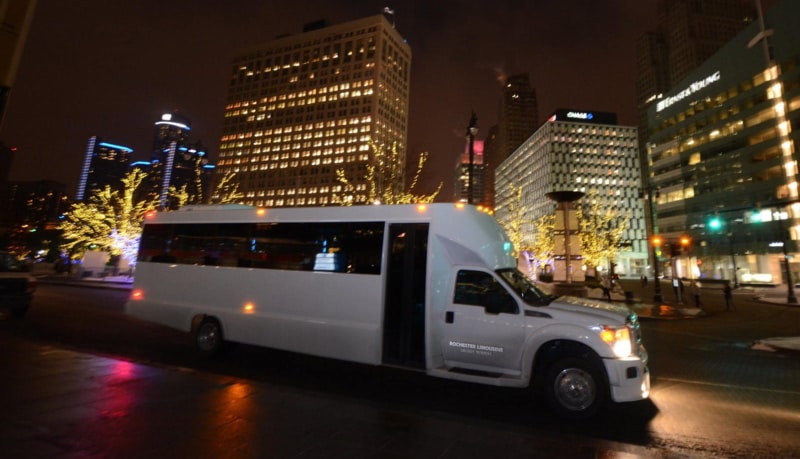 Party Bus Rental Madison Heights MI
With more than 20 years of experience, Rochester Limousine is excited to help you enjoy "A Night To Remember" by offering you access to the most luxuriously affordable party bus rentals in Madison Heights, MI. Madison Heights is a suburb of Detroit in Oakland County with just under 30,000 residents. The community of Madison Heights offers a diverse lifestyle complete with exceptional entertainment, clean and safe neighborhoods, an abundance of natural beauty, philanthropic ideologies, and more. Whether you're a kid taking advantage of the local Red Oaks Waterpark or an adult letting off some steam at the nearby Double Action Indoor Shooting Center & Gun Shop, Madison Heights has something exciting for you to do regardless of your age or interests. For those who want to make a difference in Madison Heights, the local Random Acts of Kindness initiative takes over the town for a short time each year in order to inspire greater charity and encourage a stronger communal bond between residents. A number of meaningful volunteer positions are also available throughout the rest of the season. Of course as admirable as it is to always be helping others, it's equally important to remember to spend a little time, money, and energy on yourself once in a while. Give yourself the VIP treatment you deserve by putting your trust in the luxury party bus rental experts who have been recognized for the excellence of their party bus rentals more than once.
If you are in the Madison Heights area and are looking for a party bus rental Madison Heights MI, please contact us today by calling 248.289.6665 or by filling out the form below: