Party Bus Rental Lottivue MI
Are you looking for a party bus rental Lottivue MI?
Built for reliability and voted number one for their overall excellence, our party bus rentals at Rochester Limousine have everything you might possibly need to ensure you and your guests have an incredible experience the next time you want to get out. Packed with all kinds of extravagant amenities, like flat screens, personal bars, pro sound systems, optional hardwood dance floors, and more, we're confident there's no crowd we can't keep entertained – and that's saying something considering our largest vehicles can easily accommodate as many as 45 passengers! From musical entertainment and sporting events, to weddings and proms, there's no moment in your life that can't be celebrated in one of our sensational party bus rentals. Don't believe us? Take advantage of one of our amazing party bus rentals and see for yourself. Superior comfort and confidence in your safety won't be the only things you rave about! In fact, go ahead and get in touch with one of our exceptionally talented party bus rental professionals today to reserve yours.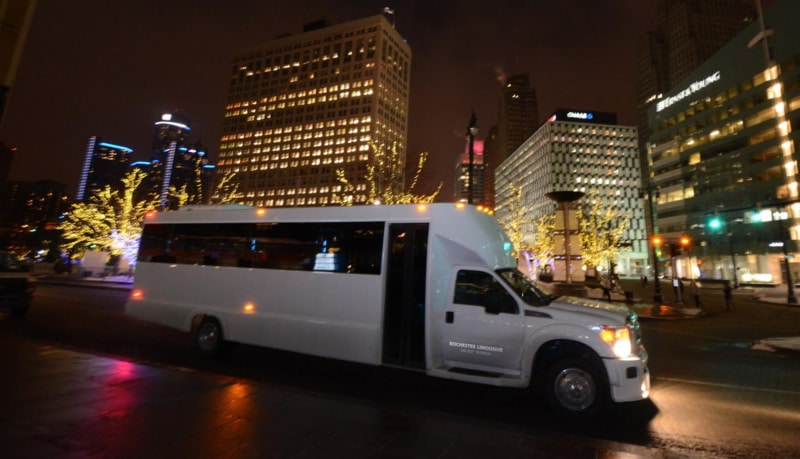 Party Bus Rental Lottivue MI
With more than 20 years of experience, Rochester Limousine is excited to help you enjoy "A Night To Remember" by offering you access to the most luxuriously affordable party bus rentals in Lottivue, MI. Located in Macomb County's Chesterfield Township, the small coastal city of Lottivue thrives as a hidden gem along Lake St. Clair's Anchor Bay. The boundaries of Lottivue stretch from Brandenburg Park, down Jefferson Ave toward Schneider Rd, with its furthest point out being Goulette Point. This incredible location allows residents of Lottivue to enjoy year round views of the lake, as well as world-class seasonal recreation. For entertainment, residents of Lottivue can travel along the coast in either direction to find a good time. Northwest of Lottivue, residents can take advantage of New Baltimore's selection of shopping and dining destinations, while in the opposite direction the Selfridge Military Air Museum, and other nightlife hotspots are sure to serve up a good time. Of course, even if you happen to live in a place as wonderful as Lottivue, it doesn't hurt to get away from home for a night sometimes and go somewhere amazing. To help you get there, Rochester Limousine can even help you choose a party bus rental that is perfect for you from our fabulous fleet. All you have to do if you live in Lottivue is put your trust in our esteemed party bus rental professionals at Rochester Limousine today!
If you are in the Lottivue area and are looking for a party bus rental Lottivue MI, please contact us today by calling 248.289.6665 or by filling out the form below: