Party Bus Rental Leonard MI
Are you looking for a party bus rental Leonard MI?
At Rochester Limousine, we make relaxing and going with the flow easy and fun with party bus rentals designed to facilitate an incredible experience for any and all passengers. Whether you are looking to tailgate with some friends at the game or chauffeur everyone to a special venue for an even more special event, our party bus rentals are clean, cozy, and can keep your guests safe no matter where you're going. Want to invite some friends? The more the merrier! Our versatile fleet includes luxury party bus rentals that can easily accommodate up to 45 passengers for you. Grab a drink at the bar, dance the night away on your own personal dance floor, or just flip through the TV until you find something good on. Whatever you want to do and wherever you want to go, our party bus rentals, at Rochester Limousine, are always here for you. So what are you waiting for? Hurry up and reserve your party bus rental at Rochester Limousine before time runs out and finally see why our party bus rentals were voted best in Metro Detroit two years running.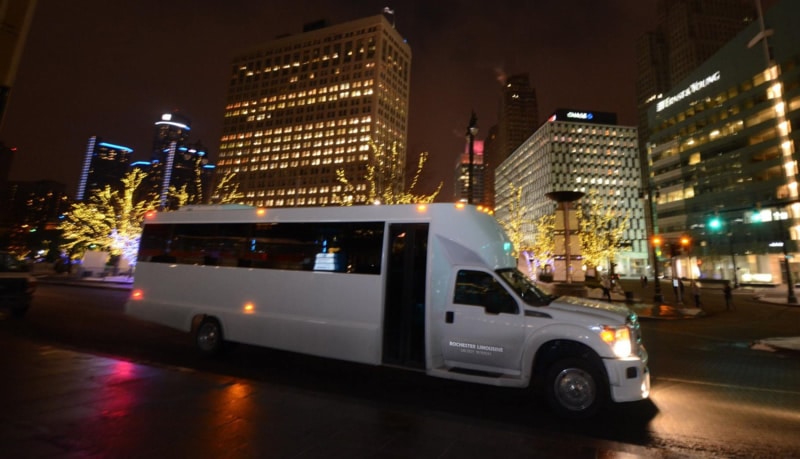 Party Bus Rental Leonard MI
With more than 20 years of experience, Rochester Limousine is excited to help you enjoy "A Night To Remember" by offering you access to the most luxuriously affordable party bus rentals in Leonard, MI. The tiny town of Leonard sits tucked away in the northeastern corner of Addison Township, in Oakland County. With just over only 400 residents, Leonard remains one of the more peaceful and quiet neighborhoods in the area, yet it still has plenty to offer nevertheless. At Addison Oaks County Park, residents of Leonard can take advantage of incredible camping opportunities, beautiful views, and tons of fresh air and local wildlife. Or, if you're looking for something a little more fasted-paced to do in Leonard, the Polly Ann Trail is perfect for hiking, biking, and more. Other unique adventures and attractions near Leonard include hot air balloon rides in Oxford at Sky Adventures, stunning golf courses at the Copper Hills Golf Club, and tons of others. One thing's for sure, no matter what you life to do, Leonard is a great place to be. If you live in Leonard and have a thing for excitement and new experiences, let our experts at Rochester Limousine show you how to really travel by matching you up with a party bus rental specially chosen just for you.
If you are in the Leonard area and are looking for a party bus rental Leonard MI, please contact us today by calling 248.289.6665 or by filling out the form below: