Party Bus Rental Lakeville MI
Are you looking for a party bus rental Lakeville MI?
From bachelorette parties to concerts and sporting events, there is no better way to celebrate your special occasion or show up to an event than in a party bus rental from Rochester Limousine. Our party bus rentals are designed for superior comfort and limitless entertainment potential while sustaining a safe and satisfying atmosphere for our passengers. With flat screen TVs, equipped bars for our passengers over 21, pro sound systems, and more, you can easily and comfortably entertain up to 45 party-goers, for any length of time, in one of our party bus rentals. At Rochester Limousine, we believe in being the best so that our clients can experience the best, and when it comes to our party bus rentals, let's just say there's a reason we were voted the best in all of Metro Detroit two years in a row. The only way to know for sure if we're up for your challenge is to try one of our party bus rentals out for yourself. We guarantee that we will do whatever we can to make your experience with us, and our party bus rentals, extraordinary.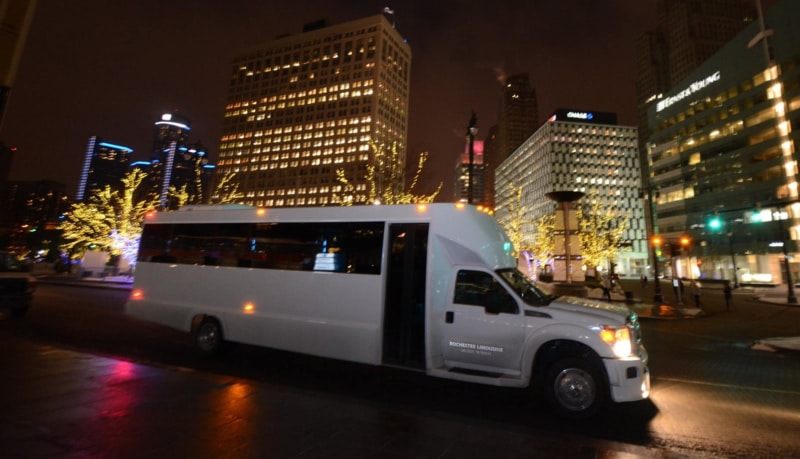 Party Bus Rental Lakeville MI
With more than 20 years of experience, Rochester Limousine is excited to help you enjoy "A Night To Remember" by offering you access to the most luxuriously affordable party bus rentals in Lakeville, MI. In the south central part of Addison Township in Oakland County, the small community of Lakeville resides. Founded by Sherman Hopkins in 1830, Lakeville will always have its own place in the history books as the very first white settlement in Addison Township, but today flourishes as a diverse and welcoming little community. Ample recreation can be found around the aptly named Lakeville Lake as well as in Addison Oaks County Park, but for automotive enthusiasts, Lakeville is a known area thanks to the fact that it's very close to the Ford Michigan Proving Grounds. Lakeville is also a great place to live if you love golf, as it has numerous golf courses nearby in all different directions, such as Copper Hills Gold Club, the Bruce Hills Golf Course, the Oxford Hills Golf & Country Club, and more. Whether you're interested in Lakeville for the peace and quiet, or for the beautifully serene Lakeville Lake, there's no denying just how incredible this little community truly is. However, if you live in Lakeville and are looking to liven things up, reserve a party bus rental from Rochester Limousine.
If you are in the Lakeville area and are looking for a party bus rental Lakeville MI, please contact us today by calling 248.289.6665 or by filling out the form below: