Party Bus Rental Lake Angelus MI
Are you looking for a party bus rental Lake Angelus MI?
If you're going somewhere special with your loved ones, or celebrating a special event, Rochester Limousine is here to make you journey that much more spectacular with a party bus rental destined to impress you. From their extraordinary entertainment features, like flat screens and bar service, to their ideal road safety and optimal comfort, our party bus rentals are perfect for just about any occasion or group of adventurers. Worried about space? Don't be! Our largest party bus rentals can easily accommodate up to 45 adults, meaning everyone can ride and arrive at the same destination together, all at the same time. Whether you're a bride-to-be who needs to get your wedding party to your venue, or you're celebrating a special birthday, you can't go wrong with getting everyone together on a party bus rental from Rochester Limousine. Use our party bus rentals as luxury transportation to get to a major concert, game, or event, or just ride around like they're your own personal lounge, our versatile party bus rentals can be used however you wish. Just be sure to book your party bus rental from Rochester Limousine before it's too late!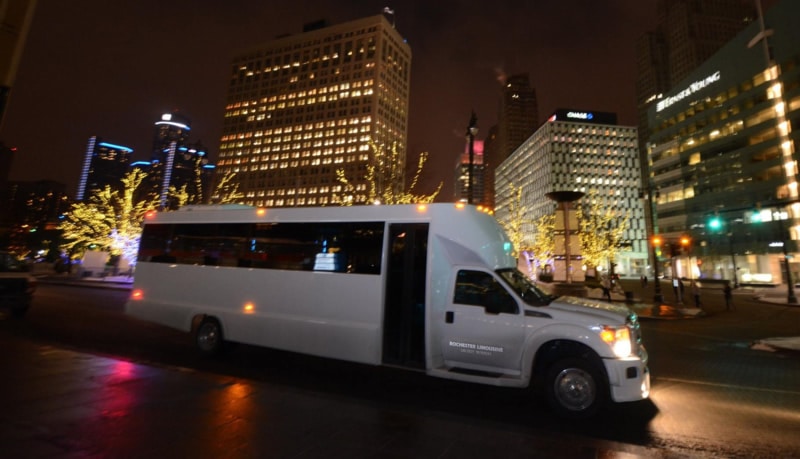 Party Bus Rental Lake Angelus MI
With more than 20 years of experience, Rochester Limousine is excited to help you enjoy "A Night To Remember" by offering you access to the most luxuriously affordable party bus rentals in Lake Angelus, MI. Beautiful, idyllic, perfect. There are many words to describe the beautiful northern city of Lake Angelus, in Oakland County, but none ever seem quite grand enough. Ranked the 5th city in Michigan with the highest per capita income over and over despite its meager size of less than two square miles and miniscule population of less than 300 people, Lake Angelus effortlessly provides all the opportunities and amenities so many crave from a traditional Michigan lifestyle. Beautiful waterfront homes tucked away amongst the trees and local wildlife, commutable distance from all the excitement in Detroit, proximity to Auburn Hills and other major destinations, and so much more truly make Lake Angelus one-of-a-kind. For fun, residents of Lake Angelus can take advantage of many nearby attractions such as the SEA LIFE Michigan Aquarium, LEGOLAND Discovery Center Michigan, the Great Lakes Crossing Outlets, and many more. Lake Angelus is also the perfect spot for enjoying plenty of seasonal activities, like boating and fishing to name a few. Whether you're an outdoorsy person or you simply love beautiful mansions and gorgeous Michigan views, no one can deny the sheer awesomeness of Lake Angelus. If you are one of the lucky residents of Lake Angelus, treat yourself to a luxurious party bus rental from Rochester Limousine for your next event.
If you are in the Lake Angelus area and are looking for a party bus rental Lake Angelus MI, please contact us today by calling 248.289.6665 or by filling out the form below: