Party Bus Rental Independence Township MI
Are you looking for a party bus rental Independence Township MI?
If you are celebrating a special event or occasion, our party bus rentals at Rochester Limousine can help guarantee you and your guests have just as much fun on the way to your destination as you will once you arrive, and on the way home. In fact, with unbeatable comfort, unparalleled road safety, and endless entertaining amenities equipped to satisfy your every whim, our largest party bus rentals are capable of accommodating up to 45 guests of any and all ages, on any and every venture you may have planned. From birthday parties, anniversaries, and weddings, to concerts, shows, and sporting events, our party bus rentals simply make your moments more special. Plus, traveling by party bus rental is the best way to make sure that you and your group stays together and safe throughout your adventures. Overall, there are countless reasons you should take advantage of one of our party bus rentals at Rochester Limousine, but perhaps the biggest is that we're confident you will love it – and you're worth it! Treat yourself and those you love by reserving your party bus rental with us today!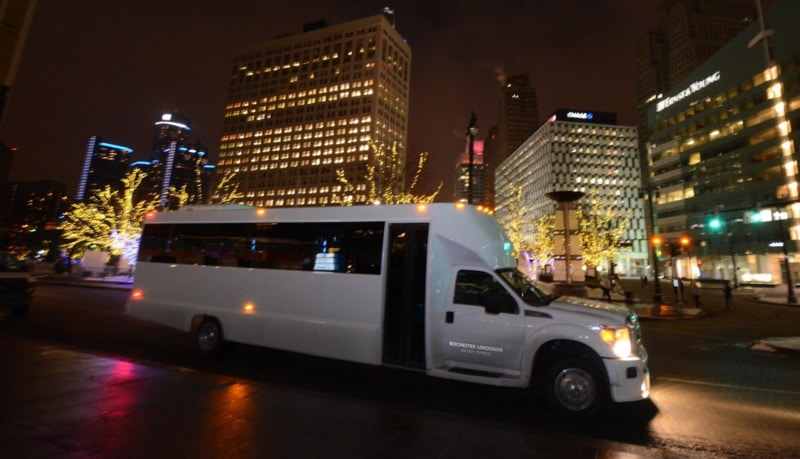 Party Bus Rental Independence Township MI
With more than 20 years of experience, Rochester Limousine is excited to help you enjoy "A Night To Remember" by offering you access to the most luxuriously affordable party bus rentals in Independence Township, MI. Part of Oakland County, the communities of Independence Township provide an amazing life for nearly 35,000 residents each and every day. In fact, due to its many popular tourist attractions, Independence Township is a very popular tourist area throughout the year. In the winter, the Pine Knob Ski Resort offers incredible seasonal sports and activities for families both in Independence Township, and across Michigan. In the spring and summer, people travel to Independence Township to take advantage of the many incredible golf courses and private golf clubs scattered throughout the area, as well as other forms of outdoor recreation along the Clinton River. Best of all, residents and visitors of Independence Township can experience extraordinary musical entertainment without having to leave town at the world-famous DTE Energy Music Theatre. Of course, just because you live in Independence Township close to all the action doesn't mean you can't take advantage of our luxury transportation at Rochester Limousine once in a while. In fact, if you live in Independence Township, our party bus rental professionals encourage you to reserve one of our party bus rentals today so that you can experience the hype for yourself!
If you are in the Independence Township area and are looking for a party bus rental Independence Township MI, please contact us today by calling 248.289.6665 or by filling out the form below: