Party Bus Rental Hickory Ridge MI
Are you looking for a party bus rental Hickory Ridge MI?
Whether it's merely been a long week and you just want to get out of town for a bit, or you've been anxiously awaiting a special trip for months now, the transportation you choose is key to ensuring you make the most of every moment. For instance, once you step onboard one of our party bus rentals from Rochester Limousine, you'll know you've made the right decision. Armed with high tech road safety features to keep you and your guests secure at all times, plus all the latest amenities for entertainment, our party bus rentals are specifically designed to impress you and facilitate a truly one-of-a-kind experience for all your special occasions and outings. From celebrating birthdays and anniversaries for all the eldest members of your family, to taking advantage of your youth and getting wild once in a while, our party bus rentals are more than ready to handle any adventure you and up to 44 additional passengers may have in store. Not sure which of our party bus rentals is right for you? No worries! Our top-rated fleet is sure to have something you love, and our party bus rental professionals at Rochester Limousine are determined to help you find it! So don't wait another minute – reserve your party bus rental with us today.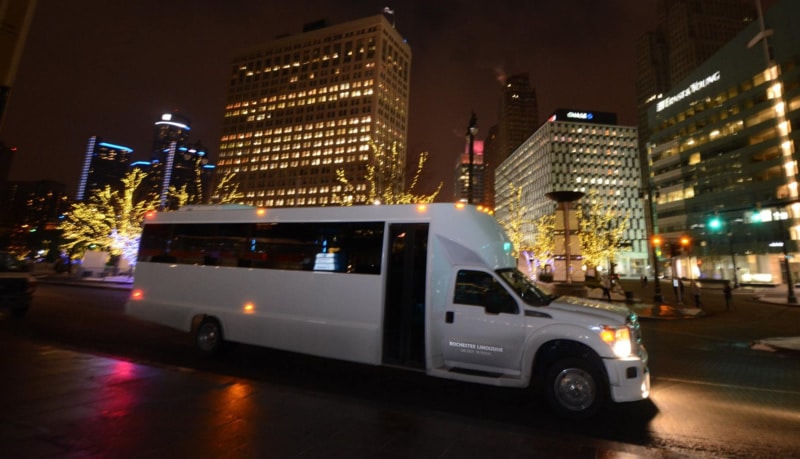 Party Bus Rental Hickory Ridge MI
With more than 20 years of experience, Rochester Limousine is excited to help you enjoy "A Night To Remember" by offering you access to the most luxuriously affordable party bus rentals in Hickory Ridge, MI. Tough to find if you don't know where to look, the small community of Hickory Ridge is one of six unincorporated towns in Oakland County's Highland Township. Hickory Ridge is located just west of Clyde and the Highland Oaks County Park in the northern half of the township, and is an especially popular area for fishing and boating, due to the numerous lakes found immediately to the east. In fact, thanks to Murray Lake, Charlick Lake, Woodruff Lake, Highland Lake, and Kellogg Lake all being grouped together, Hickory Ridge has more than enough shoreline to satisfy any aquatic enthusiast's thirst for entertainment. Of course, there is more to life in Hickory Ridge than simply siting by the lake watching the sun rise and set. From nearby golf clubs to quaint little bars, residents of Hickory Ridge are never far from a good time. For instance, if you're a resident of Hickory Ridge and you want to go out exploring, all you have to pick a direction and you are sure to find something amazing. Looking for incredible transportation to ensure your journey outside of Hickory Ridge is truly remarkable? Our party bus rental experts at Rochester Limousine have everything you need! Reach out to us today to learn more about acquiring one of our amazing party bus rentals.
If you are in the Hickory Ridge area and are looking for a party bus rental Hickory Ridge MI, please contact us today by calling 248.289.6665 or by filling out the form below: