Party Bus Rental Hazel Park MI
Are you looking for a party bus rental Hazel Park MI?
From group trips at the racetracks to concerts and sporting events in the city, Rochester Limousine is making it easy for you to get all your loved ones together for an unforgettable adventure thanks to our vast assortment of party bus rentals. Sit back, relax, and cheer on your favorite sports team live on your way to the game with great views from the massive flat screen TV's or get pumped for your favorite musical artist by hosting a dance party on your way to the concert thanks to the professional audio, lighting, and hardwood dance floor available in select party bus rentals. Whether you are keeping it low key with only a few close friends or throwing the bash of the century for a special occasion and need to accommodate up to 45 people, Rochester Limousine can get you matched with the perfect party bus rental that meets your needs and keeps your guests comfortable. Discover why Rochester Limousine was rated number one twice in a row by trying out one of our party bus rentals for yourself today.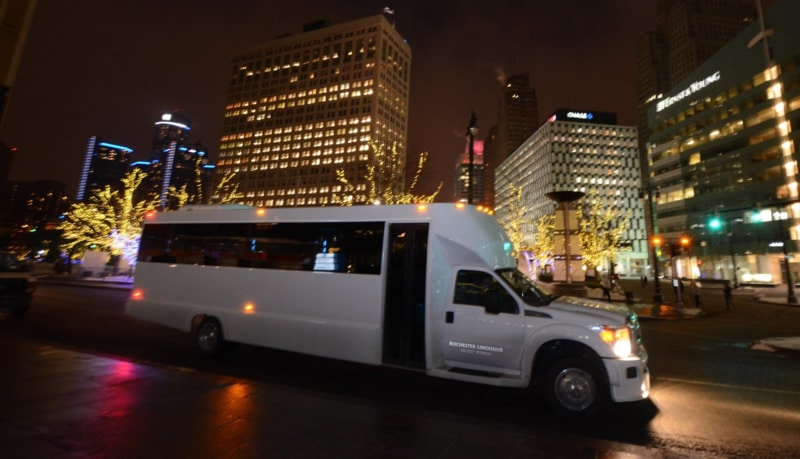 Party Bus Rental Hazel Park MI
With more than 20 years of experience, Rochester Limousine is excited to help you enjoy "A Night To Remember" by offering you access to the most luxuriously affordable party bus rentals in Hazel Park, MI. In Oakland County, the "Friendly City" of Hazel Park offer its more than 16,000 residents a remarkably charming lifestyle complete with excellent education, picturesque neighborhoods, and philanthropic ideals. Whether you love to have a good laugh at The Phoenix Café or cheer on your favorite steed at the Hazel Park Raceway, it is hard to ever run out of fun things to do in Hazel Park. Of course if you ever want to feel like you're doing something more, Hazel Park offers a number of opportunities for valuable community involvement including becoming a volunteer for programs like the Mobile Communications Support Unit (MCSU), the Community Emergency Response Team (CERT), the Oakland Literacy Council, and more. To take it even further, Hazel Park even offers students within the community the chance to receive financial aid toward higher education thanks to a program called the Hazel Park Promise Zone. Whether you have a family or live the single life, Hazel Park is a wonderful community to call home. In fact, it's such a great place that it's easy to not want to leave, which is why Rochester Limousine is enticing you to expand your comfort zone with party bus rentals specifically designed with your comfort in mind. Get out and go on an adventure today with the help of an incredible party bus rental from Rochester Limousine.
If you are in the Hazel Park area and are looking for a party bus rental Hazel Park MI, please contact us today by calling 248.289.6665 or by filling out the form below: