Party Bus Rental Harper Woods MI
Are you looking for a party bus rental Harper Woods MI?
A party bus rental is more than just a means of transportation; it's a way to enjoy a truly once-in-a-lifetime experience! In fact, whether you're getting a big group together and going to a concert to celebrate an important milestone, or just trying to take a few friends to a sporting event to unwind, showing up in an impressive party bus rental is hands-down the best way to ensure that you and all your guests from Harper Woods have the time of your lives. Although, choosing the right party bus rental for your night out, is just as important as choosing to take advantage of a party bus rental in the first place. A lot of luxury transportation providers will do anything to get you to ride off into the sunset in their subpar vehicles, but only Rochester Limousine offers party bus rentals that are specifically designed to be the most modern, reliable, stylish, comfortable, and safe out there. After all, our fleet was voted number one in the whole Metro Detroit area twice in a row for being the newest, hottest, and overall most extraordinary! So take advantage of cozy seating for up to 45 people, flat screens, personal bars, dance floors, and so much more by reserving your party bus rental from Rochester Limousine, today.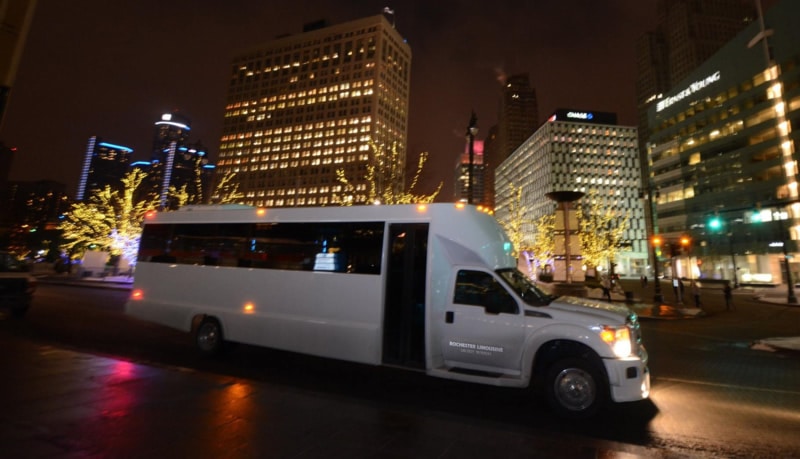 Party Bus Rental Harper Woods MI
With more than 20 years of experience, Rochester Limousine is excited to help you enjoy "A Night To Remember" by offering you access to the most luxuriously affordable party bus rentals in Harper Woods, MI. Harper Woods is one of Wayne County's more peaceful neighborhoods. It sits just a few blocks off the coast of Lake St. Clair, and is within ideal distance of the local hospital, Ascension St. John Hospital. Aside from a few nearby parks, like Ghesquiere Park and Balduck Park, Harper Woods doesn't really offer very much in the way of local entertainment or recreation. The good news is, Harper Woods is located right on I-94, which means exploring and discovering new nearby attractions is super easy for its more than 14,000 residents. From museums and shopping in the heart of Detroit, to literally everything else there is going on throughout the entirety of Metro Detroit, all you really need to have in order to enjoy a fantastic time is a group of willing friends and a large enough vehicle to transport you all out of Harper Woods to wherever it is you want to go. While you might already have a long list of loyal friends in Harper Woods ready to drop everything and head out on an adventure, getting your hands on a vehicle large enough to transport you all is the tricky part – or is it? Our party bus rentals at Rochester Limousine are more than capable of getting you and all your chums from Harper Woods to anywhere you desire throughout Metro Detroit. All you have to do is trust us.
If you are in the Harper Woods area and are looking for a party bus rental Harper Woods MI, please contact us today by calling 248.289.6665 or by filling out the form below: