Party Bus Rental Groveland Corners MI
Are you looking for a party bus rental Groveland Corners MI?
When it comes to celebrations, you should never underestimate the power of our party bus rentals at Rochester Limousine. Capable of accommodating up to 45 passengers at a time, and fully equipped to entertain any group with an abundance of amenities and features you're sure to love, our luxury party bus rentals are more than ready to handle any adventure you have planned. Whether you are taking an excursion into the city for a pub-crawl with the guys/ladies, or going somewhere unique for a special occasion, there simply is no better way to travel than by one of our party bus rentals. From relaxing on the spacious seats and watching TV, to turning up the tunes and getting a drink at the private bar, our party bus rentals are designed for superior comfort and entertainment from top to bottom. So the next time you're thinking of taking a day trip somewhere or impressing your friends and family with above and beyond extraordinary transportation, do yourself a favor and reserve a party bus rental from Rochester Limousine. Rated number one in Metro Detroit two years in a row – we're confident that you will be just as blown away by our incredible fleet of luxury party bus rentals as we are each and every day.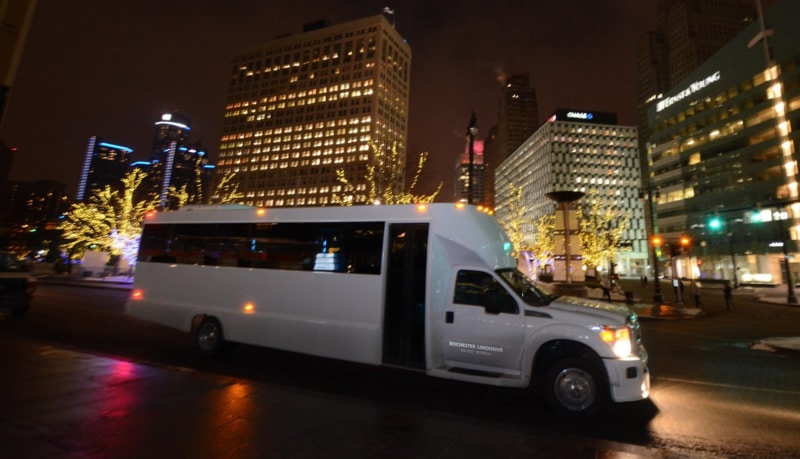 Party Bus Rental Groveland Corners MI
With more than 20 years of experience, Rochester Limousine is excited to help you enjoy "A Night To Remember" by offering you access to the most luxuriously affordable party bus rentals in Groveland Corners, MI. Groveland Corners is one of only two deceivingly small communities located all the way out in Oakland County's Groveland Township. In fact, in total, the entire township spans 35 square miles across the county, yet all of its more than 5,000 residents living there are split residentially between Austin Corners and Groveland Corners. Of course, despite being quite a ways from the main city of Detroit, Groveland Corners still manages to provide an exceptional quality of life for its people – which should be expected since Groveland Corners is nestled ever so perfectly amongst the Seven Lakes State Park, Groveland Oaks County Park, the Holly Recreational Area, and more. From hiking and fishing to boating and bird watching, Groveland Corners is simply full of everything and anything a person might need to live a peaceful and relaxing life. However, for those days you're craving a little more excitement and the activities in Groveland Corners just aren't quite cutting it, Rochester Limousine is here with party bus rentals to take you anywhere in Metro Detroit you want to go. No matter where you live in Groveland Corners, our experts at Rochester Limousine always have your back.
If you are in the Groveland Corners area and are looking for a party bus rental Groveland Corners MI, please contact us today by calling 248.289.6665 or by filling out the form below: